Skull Valley, Prescott residents vocal in opposition to proposed Kirkland mine
Deadline to file comments is Sept. 4

Originally Published: July 16, 2018 6:02 a.m.
Every person who spoke during the public comment period Wednesday, July 11, voiced concerns about the Kirkland Mining Company's (KMC) proposed pozzolan mine in Skull Valley. Even after numerous studies and analyses, residents of Skull Valley and Prescott continued to express their worries about transportation, water, dust and environmental impacts.
KMC's application to the Bureau of Land Management requires BLM to host public meetings, and the July 11 meeting at the Kirkland Community Center was one of several that have taken place since the first Public Scoping meeting 2017.
The high-quality pozzolan mine site would be located on about 88 acres of public lands in Skull Valley; the company will build support facilities on four acres of privately owned property.
Pozzolan is an ingredient used to improve the durability of cement. It can substitute for fly ash, a manmade product of coal-fired power plants that is becoming harder to obtain.
A stenographer recorded the presentation and the comments during and after the meeting. Maps, comment forms, baseline studies, the draft environmental assessment and other materials can be found on the BLM website at go.usa.gov//xnJFX.
TRANSPORTATION
Transportation continues to be the biggest complaint from nearby residents and those of Prescott, 26 miles away via Iron Springs Road. KMC has proposed three transportation routes, depending on locations of potential buyers of their product. An initial traffic study by Lee Engineering was completed in March, and a Supplemental Traffic Analysis completed in April by Westland Resources, Inc.
The latter company looked at traffic impacts for the opening year of mining operations (2019) and again for 2040. In addition, it produced traffic counts for worst-case scenarios — as if 100 percent of projected traffic were to travel on only one route during full production estimated by year five.
Route 1 takes material south to Highway 93 toward Phoenix. Route 2 heads west to Hillside for possible railway transport. Route 3, the main concern of Prescott residents, heads north on Iron Springs Road to Highway 89 via Williamson Valley Road and Pioneer Parkway.
With an anticipated haul rate of 500,000 tons of material per year at full operation, KMC would require about 160 truck trips per day (80 entering and 80 leaving the site), including five to nine water truck trips. Adding 50 employee vehicle trips in and out come to a total 210 trips, although half the employees would arrive from the south and half from the north. Currently, about 1,656 vehicles pass the entrance to the mine daily, with 186 of those being trucks. Projected growth would add 2.2 percent more traffic per year.
Westland Resources's worst-case scenario of 100 percent of all mine traffic on Route 3 indicates an increase in all vehicle traffic between 2.9 and 10.7 percent. For truck traffic, the increase would be between 29.4 and 82.5 percent.
Prescott resident Karen Lindsay said she was concerned about the additional seven trucks per hour traveling Iron Springs Road. She said, following the meeting, that trucks turning from Iron Springs Road to Williamson Valley Rod also would be an issue.
"We've seen nothing like this," Lindsay said, also mentioning concerns with dust and safety as trucks pass by schools, residential areas and summer camps.
Another person called the intersection a potential "nightmare." Prescott Councilman Phil Goode, who said he lives on Williamson Valley Road, called the transportation studies "inadequate," and he expects to hear more "jake brakes" from trucks.
"There is a safety aspect at the intersection of Williamson Valley Road and Iron Springs Road, especially when school is in session. The trucks trying to make that turn, they're not going to be able to make that turn," Goode said. "And what happens if the fire trucks are responding to a fire and there's a gridlock?"
KMC will be using two types of trucks: the 40-ton articulated trucks only within the mine property to load material and take to the staging area, and the 25-ton tractor trailer that hauls covered loads to their destinations. The 25-ton trucks are 40 feet long, said engineer Al Burch, Kirkland Mining project manager. For comparison, a school bus is 45 feet in length.
"That turn with their trucks is not a hard thing to do. Besides, this (Iron Springs Road) is a designated alternate truck route,"
Burch said, adding that heading up Highway 89 with its switchbacks is not really a viable route.
WATER
Five completed studies on the 88 acres of public land and adjacent private property have been filed with the BLM: geochemical assay, jurisdictional waters, traffic impact, supplemental traffic analysis, and evaluation of Skull Valley Ranch Wells.
The only water that will be used at the site is for dust abatement. KMC estimates an average demand of 28,800 gallons per day (gpd), with a maximum demand for 35,000 gpd, when mining operations reach full capacity.
KMC is looking at purchasing water from two irrigation wells on a nearby ranch. Ranch irrigation consumes at least two times more water than the maximum demand expected for the mine.
Bill and Sandra McCallum, Skull Valley residents, expressed their concern about Arizona's drought. "Why would any person take water to pour on dirt?" Bill McCallum said.
DUST
The mine will extract pozzolan material, typically 6 to 24 inches in size and feed it into a crusher to crush into 2-inch maximum size before transporting to its customers, where it usually is ground to fine powder. KMC's scientists ran numerous analyses and found no identified airborne carcinogens. BLM scientists also analyzed samples in an independent study and found no asbestos or erionite crystals.
Trace amounts of quartz, a crystalline silica, were found, which can be dangerous if inhaled. The Arizona Department of Environmental Quality will monitor strict dust control measures, said Shelby Cave, BLM geologist.
Nevertheless, people remain concerned about dust produced at the site and during transport. Prescott resident James Wills said breathing any level of silica can lead to a "horrible way to die."
"The idea there will be very little dust does not sit well with me," he said.
BIOLOGY/ARCHEOLOGY
Walt Anderson, a wildlife biologist, told the audience that he has taken students to the mining area to study the diverse environment. He said he felt the plan for reclamation and replanting to be "ridiculous."
Joe Trudeau, Southwest Advocate for the Center for Biological Diversity, emailed the Courier July 12, stating in part, "The Center for Biological Diversity stands with these local voices in staunch opposition to the wanton destruction of a sensitive and remarkable geologic wonder for the benefit of an absentee leaseholder and an out of state corporation."
KMC, a family owned company, has its headquarters in Phoenix.
Trudeau also mentioned KMC's "the blatant disregard for Native American cultural sites."
However, BLM Archeologist Chris McLaughlin said BLM met with cultural resources staff from the Yavapai-Prescott Tribe and with elders from the Hualapai Tribe in May and visited the site as required under the National Historic Preservation Act. Consultation with the Arizona State Historic Preservation Office took place in 2017 and again in May this year.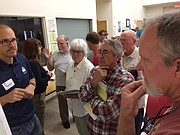 McLaughlin said KMC has redesigned its project area to move its boundary 100 feet to avoid a petroglyph location. All agencies agreed with the BLM's determinations: the transportation network would not affect historic properties; certain sites were eligible as cultural sites, others were ineligible; and there would be no adverse effect to historic properties.
Rem Hawes, BLM Hassayampa Field Office manager, said "This is the most robust Environmental Assessment I've ever done." He added that he was pleased with the spectrum of concerns from the public, which will be a part of the BLM's analysis of KMC's application.
KITTY LITTER
Mining has taken place in this location since the 1890s. Tuft rock from its quarry was used in construction of the Arizona State Capitol Building and other building such as the Kirkland School.
In 1979, Kitty Litter Mine began shipping oil absorbent material from the mine, producing as much as 1,200 tons of tuff per month. The mine was closed in 1985.
Sharon Shafer's grandfather owned the Kitty Litter Mine. She has attended all BLM public meetings.
"I thought this meeting was the best. It was well-organized, the information was good and the forum was good," she said. "I didn't hear anything new from those opposed."
Shafer said when the Kitty Litter Mine was in full operation, no one could hear it.
"We had massive crushers, dirt movers, loaders, graders and cats back in the 1980s. And we used blasting. Nobody complained," she said, adding that big trucks hauled material out of the mine site and transported it across the country.
She pointed to the Kirkland School's basketball court where she and other kids used to play on a large tufa mound. She still lives in a house next to the school, both made of the material extracted from the mine site.
The BLM will accept public comment through Sept. 4. Written comments may be mailed to Geologist Shelby Cave at the BLM Hassayampa Field Office, 21605 N. 7th Ave., Phoenix, AZ 85027, faxed to 623-580-5580, or emailed to KIRKMPO@blm.gov.
More like this story
SUBMIT FEEDBACK
Click Below to: