Families in need gear up for school
Trinity Lutheran Church helps children from Humboldt Elementary School

Originally Published: July 16, 2018 6 a.m.
Looking through the racks of clothes at the Walmart in Prescott Valley, Claire Andringa said it feels good to be able to have some new duds for when school starts.
Organized by Fred Pamer, members of Trinity Lutheran Church gave seven families and 19 children from Humboldt Elementary School the chance to pick out some new clothes for the beginning of the school year Saturday, July 14.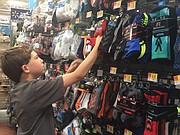 Andringa's mother, Maryann Andringa, said she felt blessed. Their home burnt down in April and they were homeless for a while, Maryann Andringa said.
"This has been such a tremendous help," she said. "We really appreciate it."

Maryann Andringa was also with her granddaughter, Riley Lopez.
Similarly Rebecca Mauldin said she felt overwhelmed but in a good way. With six boys in total, one of whom is 18-years-old and another is about to start his last year of high school, it took stress off of her and allowed her to focus on other important things.
The church was careful in deciding which families to choose, Pamer said. They got all their information about which families needed help from the school nurse, he said. The hope is to continue helping families in this way year after year while getting the information they need from the school.
"If they only have four families, then that's what we'll do," Pamer said.
This isn't the only way Trinity Lutheran Church helps out families in need, he said. For 11 years, he's been filling backpacks with school supplies and every year, the church gives out 300 of them.
The families had about $100 they could spend with the money coming from donations made by various businesses, Pamer said. For those backpacks, the money for those school supplies comes from a golf tournament as well as a grant from Walmart, he said.
Pamer also said he has a connection with the Humboldt Unified School District, working as a bus driver for Lake Valley Elementary School.
More like this story
SUBMIT FEEDBACK
Click Below to: