Wiederaenders: High Court nomination a 'Paper Chase'?

Originally Published: July 15, 2018 6:05 a.m.
I remember fondly "The Paper Chase," that 1973 movie about a first-year law student.
The guy struggled with balancing his coursework and his relationship with the daughter of his sternest professor, the Internet Movie Data Base (IMDB) website states.
The reason it resonated with me is my Constitutional Law course in college was much like its in-class exploits. Preparing briefs on case law, Shepardizing cases to determine legal authority, … and being ready at any time during class to stand and present in front of the professor. If you were not prepared, you were embarrassed (by the professor) and it chipped away at your grade. Gave new meaning to: when you're in a hole, stop digging!
The final project involved analyzing a year of the Supreme Court and their decisions in great detail. It took weeks.
Thus, I have always taken a keen interest in nominations to the High Court, the court's balance — political or otherwise, and possible changes when new justices are confirmed.
I will never forget President Reagan's nomination of Robert Bork, former United States Solicitor General, in 1987. Criticism, at least in part, came from civil rights and women's rights groups, concerned about Bork's opposition to the authority claimed by the federal government to impose standards of voting fairness upon states.
At his confirmation hearings, he aired his desire to roll back civil rights decisions, and he was criticized for advocating for disproportionate powers for the executive branch of government, almost "executive supremacy." The Senate denied Bork's nomination; I doubt he'd even be considered today, given the political climate.
Reagan then nominated Douglas Ginsburg, who withdrew after revealing he smoked marijuana with his students at Harvard. Oh, how different that would go down today.
Here's the point though: who was the next nominee? The very man who is retiring from the Supreme Court, effective July 31, 2018 — Anthony Kennedy.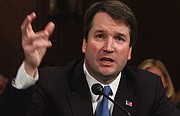 President Trump's nominee, Brett M. Kavanaugh, faces a stiff confirmation. Tapped for the U.S. Court of Appeals by President George W. Bush, his 2006 confirmation was contentious, I recall.
Have you noticed Kavanaugh looks like he's very young? Democrats tried to paint him as inexperienced last time. Expect a partisan vote preceded by a lot of drama. His Supreme Court confirmation hearings are tentatively slated for early September.
I have to wonder — what would it be like if all judges and justices had to suffer under confirmation hearings? I like to think it would be like my Constitutional Law course, though, I am sure quite a chasm exists between a college student and a seasoned judge. Considering what failed nominees are ousted for, it sounds more like that 1973 movie — someone struggling with the balance between law and personal life.
As for Kavanaugh, he'll do well. I don't envy him though, going before the Senate hearings.
Still, sometimes you have to be ready to stand and present in front of the professor, even if you're dating his daughter.
More like this story
SUBMIT FEEDBACK
Click Below to: