National Weather Service issues Flash Flood Warning and Flood Advisory for Yavapai County
Originally Published: July 15, 2018 3:41 p.m.
Updated as of Sunday, July 15, 2018 8:28 PM
Video: Flooding at Fain Park in Prescott Valley
Posted July 15, 2018 on Facebook by user Sean Tessman.
Video sound may be muted. While playing video click bottom, right speaker icon to unmute.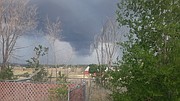 The National Weather Service in Flagstaff has issued a Flash Flood Warning for Yavapai County in the Goodwin fire scar area in west central Arizona.
The warning holds until 8:30 p.m. MST on Sunday, July 15, 2018.
At 2:27 p.m. MST, Doppler radar indicated thunderstorms producing heavy rain moving into the Goodwin fire scar area. Up to one inch of rain has already fallen. Flash flooding is expected.
Mayer, Arizona and nearby locations are expected to experience some flooding in the following streams and drainages: Turkey Creek, Arrastra Creek, Little Wolf Creek, Cedar Creek, Grapevine Creek, Towers Creek, Pine Creek, Wolf Creek, Hackberry Creek and Big Bug Creek.
This includes State Route 69 between mile markers 270 and 275.
PRECAUTIONARY/PREPAREDNESS ACTIONS
According to their website, the weather service announced the following precautionary preparedness actions:
"Move to higher ground now. Act quickly to protect your life. Heavy rainfall over the Goodwin fire scar will likely trigger flash floods in and downstream of the fire area. Heavy rains may cause dangerous flooding across roadways in Mayer near Big Bug Creek. Turn around, don't drown!
"Life threatening flash floods and rock falls will occur in the Mule Canyon, Wolf Creek, and Pine Creek drainages. High water and debris will affect the Mayer-Bolada Road and Pine Flat Road. Act quickly and avoid these areas!"
FLOOD ADVISORY
A Flood Advisory was also issued from the National Weather Service at 2:52 p.m. MST Sunday.
Small Stream Flood Advisory for Yavapai County Prescott, Chino Valley and Dewey Humboldt areas in west central Arizona.
The Flood Advisory holds until 5:45 p.m. MST on Sunday, July 15, 2018.
At 2:50 p.m. MST Doppler radar indicated heavy rain due to thunderstorms. This will cause small stream flooding in the advisory area. Up to one inch of rain has already fallen.
Some locations that will experience flooding include: Chino Valley, Prescott Valley, Prescott, Dewey-Humboldt, Cherry, Groom Creek Subdivision, Prescott Airport, Walker, Prescott Gateway Mall, Yavapai County Fairgrounds, Downtown Prescott, Indian Hill West Prescott, Oak Knoll Village, Paulden, Lower Wolf Creek Campground, Lynx Lake Dam, Powell Springs Campground, Prescott Valley Event Center, Upper Wolf Creek Group Campground and White Spar Campground.
For additional updates visit: https://forecast.weather.gov/MapClick.php?zoneid=AZZ008
Video note: At right, Elizabeth Herb shared this video on her Facebook page showing flooding along Viewpoint Drive and Roundup Drive in Prescott Valley, Arizona on July, 15, 2018.
More like this story
SUBMIT FEEDBACK
Click Below to: