Roughriders infielder Sacco, coach Cougill to join NJCAA national team
Junior College Baseball

Originally Published: July 14, 2018 6 a.m.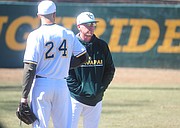 PRESCOTT — The NJCAA National Baseball team's 26-man roster for the 84th annual National Baseball Congress (NBC) World Series, announced Wednesday, includes Yavapai College infielder Tony Sacco. Roughriders coach Ryan Cougill was also tapped as one of the team's assistant coaches.
Guided by Tyler (Texas) coach Doug Wren, the national team plays Aug. 1-11 in Wichita, Kansas. A roster of 13 pitchers, three catchers, five infielders, four outfielders and one utility player will face top talent from around the world, an NJCAA press release said. The squad features players from 21 different NJCAA schools and 10 different states, and it represents all three of NJCAA's divisions.
Prominent members of this year's roster include the 2018 American Baseball Coaches Association (ABCA)/Rawlings NJCAA Division II Baseball Player of the Year Brandon Parker of Mississippi Gulf Coast, 2018 Spalding® NJCAA D-I Baseball Defensive Player of the Year Michael Lawson of Panola (Texas), and 2017 ABCA/Rawlings NJCAA D-III Player of the Year Taylor Broadway of Tyler.
Fourteen players on the national team roster have committed to four-year programs, such as Florida, Louisiana State, Mississippi and Tennessee. Eleven players recently ended their freshman seasons at their respective NJCAA programs. Panola led the way with three national team selections, while Howard (Texas), Santa Fe (Florida) and Tyler earned two apiece.
Wren will coach with Cougill and Sam Temple of Hinds (Mississippi). Joe Bauth, the NJCAA Baseball Coaches Association president, will serve as general manager.
The NBC World Series will be played at Wichita's Lawrence-Dumont Stadium, which has hosted the event since 1935. In 2016, the NJCAA national team finished fourth at the NBC World Series with a 3-1 record and was named the Most Outstanding Offensive Team.
Yavapai College's athletic department and the NJCAA provided information for this story.
More like this story
SUBMIT FEEDBACK
Click Below to: