Navajo silversmith Benally wins Best of Show at the Prescott Indian Art Market, show continues Sunday
Originally Published: July 14, 2018 7:27 p.m.
Photo Gallery
Indian Art Market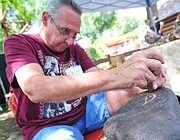 Diné Navajo Veronica Benally captured "Best of Show" honors and earned the blue ribbon for jewelry at the 21st annual Prescott Indian Art Market held this weekend at Sharlot Hall Museum.
The recognition is the top honor at the juried Market in which Melissa Antonio, Tim Washburn, Tahnibaa Naataanii and Baje Whitethorne Sr., also earned blue ribbons in pottery, sculpture, traditional and two-dimensional arts, respectively.
"I am honor and surprised," said Benally. In describing her piece, the distinctive inlays to the silver belt are made of spiny oyster shell fragments. "I love the sunsets in Arizona ... every day, the oranges and reds and yellows are different. It's like a picture God made just for me!" This is her third year at PIAM and first time as Best-of-Show honoree.
For more than two decades, the Prescott Indian Art Market has honored the best-of-the-best, first as a juried show of Indian artists from more than 30 tribes and pueblos of the Southwest, and second recognizing excellence in each of five categories. "It's what makes the Prescott Indian Art Market one of the most coveted venues for showcasing Native art," said Fred Veil, executive director, in announcing the Best of Show honors.
In the pottery category, Melissa Antonio (Acoma Pueblo) was honored for her distinctive globe-shaped pot with intricate swirls of Indian symbolism.
Tim Washburn, featured artist in 2016, won blue-ribbon honors for his detailed quartet of traveling companions sculpted from a massive piece of native stone.
Baje Whitethorne Sr., a Market favorite, was honored for his watercolor (two-dimensional art) of a traditional dwelling with a 20th century embellishment.
In the traditional art category, Diné Navajo Tahnibaa Naataanii received the blue ribbon for her hand-woven shawl in natural Native colors and symbols of crème, green and dark red. She had won Best-of-Show honors last year.
The Prescott Indian Art Market continues from 9 a.m. to 4 p.m. Sunday, July 15, at Sharlot Hall Museum, 415 W. Gurley St. in Prescott, two blocks west of the courthouse plaza. For more information, call 928-445-3122 or visit www.sharlot.org.
Information provided by Sharlot Hall Museum.
More like this story
SUBMIT FEEDBACK
Click Below to:
This Week's Circulars
To view money-saving ads...