Reported bank robbery at OneAZ Credit Union in Prescott Valley
Police quarantine building
By
Max Efrein
|
mefrein
Originally Published: July 13, 2018 5:54 p.m.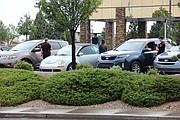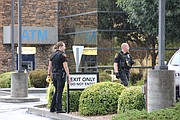 Officers with the Prescott Valley Police Department swarmed the OneAZ Credit Union on Pav Way in Prescott Valley shortly after 4 p.m. Friday, July 13, following a report of a bank robbery.
OneAZ Credit Union customer June Belton said she had been in the bank only 15 minutes before officers started showing up.
"I just left and went right into Goodwill to get some candles and came back and boom, they were all pulling up," she said.
She said the parking lot was completely packed with customers, but was quickly cleared out as officers asked everyone to leave.
The officers then quarantined the building and taped off the entrances to the business to prevent vehicles from driving in.
Jason Kaufman, spokesperson for PVPD, confirmed it was a bank robbery and said more information would be available once everything was figured out.
Watch dcourier.com for updates on the story
More like this story
SUBMIT FEEDBACK
Click Below to: