JD Souther to perform at Elks Theatre on July 16

Originally Published: July 13, 2018 6:01 a.m.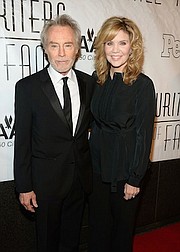 JD Souther, co-writer of a dozen Eagles songs, 10 songs for Linda Ronstadt and James Taylor's "Her Town Too," is coming to Prescott for a solo performance at the Elks Theatre and Performing Arts Center for "An Evening with JD Souther."
Souther said he's had a number of influences over the years whether it was 10 years of listening to John Coltrane or 15 years of listening to Merle Haggard, adding that Roy Orbison was also a great influence.
"He was probably the greatest rock 'n' roll singer ever," Souther said.
"An Evening with JD Souther" begins at 7 p.m. Monday, July 16. Tickets are $45 for adults, $42 for seniors and $50 for opera box seats and are available online at www.prescottelkstheater.com, by calling 928-777-1370 or at the door one hour prior to the performance.
Along with the songs he has co-written, Souther has written many by himself and there are benefits to both, he said. Writing alone means not having to compromise with anybody, but writing with another good writer means the song will more than likely be finished sooner. "Our Town Too" had a third writer by the name of Waddy Wachtel and writing it was very fast, he said. Wachtel started playing a guitar riff while Taylor and Souther started singing back and forth with each other.
Souther has been playing music since he was 6 years old and said he just does whatever the next thing is that pops into his head.
"I don't very often connect any kind of particular inspiration to what I write. When I was younger, maybe," he said. "But as you get older and as you write more, by the time I was 30, I realized that most of the best songs were a composite of memories … they were more like little biopics, some parts mostly true."
The show, which features just him as opposed to his trio, is equally fun for him as it is for the audience, Souther said. He's learned how to pace it by himself where he's not dependent on a band and he may do a string of two or three in a row that seem related or might stop and think of a story he wants to tell about a song people know really well.
The Elks Theatre and Performing Arts Center is located at 117 E. Gurley St. For more information, visit www.prescottelkstheater.com.
More like this story
SUBMIT FEEDBACK
Click Below to:
This Week's Circulars
To view money-saving ads...