Indian Art Market features silversmith, more than 100 artists representing 30 tribes

Originally Published: July 13, 2018 6:06 a.m.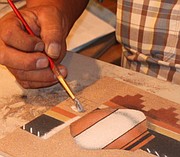 Diné Navajo silversmith Jim Harrison is this year's featured artist at Sharlot Hall Museum's 21st annual Prescott Indian Art Market this weekend.
In using a dentist drill, Harrison captures the beauty of Arizona and New Mexico night skies in silver jewelry with inlays of semi-precious stones, Museum Media and Marketing Manager Ken Leja said.
Held Saturday and Sunday, July 14-15, at Sharlot Hall Museum, 415 W. Gurley St., this year's market will see more than 100 American Indian artists representing 30 tribes and pueblos offering the best of their work. They're all juried artists whose peers have judged the quality of their work, Leja said. It's what makes the art market one of the top three Indian art markets in the country and one of the top in the Southwest.
"You get all of these artists here to talk about their work, share their work and be able to give you more of the background of what inspired them to create it," Leja said. "It's a very small, intimate market that really allows you to get up close and personal with the artist who's presenting the work for you."
Open from 9 a.m. to 5 p.m. Saturday and from 9 a.m. to 4 p.m. Sunday, admission to the Prescott Indian Art Market is $10 for adults, $8 for museum members and free for those 17 and younger.
Art at the market includes hand-crafted traditional and contemporary paintings, weavings, pottery, sculptures and carvings in bronze, wood and stone, clothing, drums and musical instruments, sand paintings and rock art and metalwork and jewelry. There are no mass-produced or commercial work allowed in the market, Coordinator Dave Lewis said.
"I like to think of PIAM as a 'Goldilocks' Market – not too big, not too small, just right and also wonderfully diverse," Lewis said. "In just a few hours, a visitor can experience everything, and maybe take home a treasure to ad to a collection, or begin a new collection to be valued for generations."
Other artists this year include painter Ryan Huna Smith, a member of the Colorado River Indian Tribe, whose paintings are favorites of collectors around the country, and Kachina carver Manfred Susunkewa, a Hopi artist whose work is reminiscent of the simple carvings of the past.
In addition to the artists, there will also be food in the way of fry bread and Navajo tacos as well as demonstrators, Leja said. The event will have a glass blower, rug weaver, rock artist and kachina caver all showing off how they work. There's also activities for the kids, from making clay pottery or learning basket weaving to beading and bracelet making or creating a rain stick. They can also participate in a collaborative large-canvas community mural.
"There's something for the kids, there's something for the families," Leja said. "You can enjoy the fry bread and the Navajo tacos, you can see the art, you can watch the entertainment."
For more information, call 928-445-3122 or visit www.sharlot.org.
More like this story
SUBMIT FEEDBACK
Click Below to: