Friday Catchall: Not all dogs created equal; bring on water conservation

Originally Published: July 13, 2018 6:05 a.m.
The Friday Catchall:
• ATTACK DOGS – Each week in The Daily Courier we post photographs of pets that need "forever homes," as the Yavapai Humane Society says it, but some people cringe at certain breeds.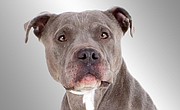 From time to time, we receive comments like this: "…is a 3-year-old American Pit Bull mix with a love for people and squeaky toys. This is a vicious killer," adding that the shelter needs to be shut down for adopting out these types of dogs.
While this person may have had a bad experience with this breed, I believe no bad breeds exist – only bad owners.
Many dogs have been used for their aggression. Pit bulls, Rottweilers, Dobermans, Mastiffs, and Shepherds top many lists.
Pit bulls are actually very sensitive, and it is easier to bring out their aggression, a dog expert told me. But it is all in how you train them. If you give them love, they can be a loving, family dog. Beat and antagonize them, and the fighter will emerge.
In fact, a neighbor of mine has been a Rottweiler rescuer for years. Her two huge rotties are gentle giants. One growls more than the other, but I can dig my fingers into the other's back all day long.
Of course, when approaching, it is best to trust no dog. Why? You don't know how it was raised.
• WEBSITE – In recent weeks we've been receiving calls about our website becoming subscription based Tuesday, July 17, more so after the article in this past Sunday's paper.
A few things have come up, most notably I want to remind everyone we are not converting to an electronic-only newspaper. Said a different way, the print edition and subscriptions to it are still very much available.
In fact, print subscribers will receive free access to the website; however, if you are a print subscriber and do not want to see the website – do nothing.
It is a change for which its time has come, but the printing press is not sitting idle.
Some items – such as classified ads, legals, public safety notices, obituaries and breaking news – will remain free. For more information about this change, visit our frequently asked questions page at www.dCourier.com/faq, or on July 17 – www.CourierFree.com.
Oh, and the comments about new ownership? Western News&Info (WNI) has owned The Daily Courier since 1958. No changes.
• WATER – Since the Prescott/Prescott Valley area is seeing more and more development – some 18 subdivisions growing or coming in (click HERE and HERE for companion articles), particularly on the north side of the tri-city area – shouldn't we have water conservation every summer?
Prescott Valley recently enacted water conservation measures because wells were not working or needed fixes, and at the same time usage was increasing; the fixes were complete on Tuesday.
But, if we're concerned and we know more and more growth is on the way, I say get ready for water conservation – such as people whose house number ends in an odd number alternate watering with the even-numbered folks.
When I was growing up in Colorado, it was numbers ending in zero through three, four through six, and seven through nine (watering once every three days).
And, when a municipality does this, officials need to make sure the parks and such alternate too. Walk the talk.
A friend told me the idea of permanent water conservation measures such as this, when I was little, were likely the result of capacity problems.
What do you think? Have you experienced this? What was the reason behind the measures? Email me at twieds@prescottaz.com.
The micro drought (since September 2017) is a blip in the 25-year drought we're still in. Annual rainfall continues to fall short of historic numbers.
Sadly, too many people will care only when nothing comes out of the tap. We cannot wait until then.
• PICK OF THE WEEK – (Proving there's always something good to do in the Prescott area that's cheap or free): The Master Gardeners' plant and yard sale, 7:30 a.m. to 12:30 p.m. Saturday, July 14, at 840 Rodeo Drive, Prescott. A wide variety of locally grown plants, garden tools, pots and garden and yard stuff will be available.
Tim Wiederaenders is the senior news editor for The Daily Courier and Prescott Newspapers, Inc. Follow him on Twitter @TWieds_editor. Reach him at 928-445-3333, ext. 2032, or twieds@prescottaz.com.
More like this story
SUBMIT FEEDBACK
Click Below to: