'Dream Lover' show salutes Bobby Darin

Originally Published: July 13, 2018 6:03 a.m.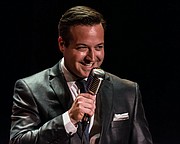 Lonely Street Productions is bringing back the "Dream Lover – A Salute to Bobby Darin" show to the Elks Theatre and Performing Arts Center this weekend.
The show stars Robert Shaw, who said it captures Darin's spirit and musical versatility. It's one of his favorites as the music and melodies are standards from the Great American Songbook.
"(Bobby Darin) was so well-rounded musically," Shaw said. "There wasn't a genre he really couldn't own."
The show starts at 7 p.m. Friday, July 13. Tickets are $25 for adults and $22 for seniors and can be purchased online at www.prescottelkstheater.com, by calling 928-777-1370 or one hour prior to the performance. Shaw said it is always a privilege coming to the Elks Theatre as it's always really fun with great audiences.
The show is always morphing and changing with how the audience responds to songs or due to their requests. Since the last time it was in Prescott, a couple more songs have been added. Previously, Shaw said it's never about choosing what songs to put in. Since Darin had such great material and so many hits that have stood the test of time, it's a matter of figuring out what songs to eliminate.
It's always hard to choose a favorite too, he said. However, the audience helps with that because if they have a favorite they're digging, he and the band will feed off of them and dig it as well.
As more time passes between the present day and Darin's heyday in the late 1960s and early 1970s, it becomes clear that history hasn't remembered him as well as his contemporaries, Shaw said. However, people who come to the show are going to know at least 90 percent of the songs.
"He had so much depth," he said. "There's something that resonates with everyone."
The Elks Theatre and Performing Arts Center is located at 117 E. Gurley St.
More like this story
SUBMIT FEEDBACK
Click Below to:
This Week's Circulars
To view money-saving ads...