Food trucks are popular, but where are they?
Constraints relaxing with new legislation

Originally Published: July 11, 2018 6:05 a.m.
Food trucks have grown in popularity over the last several years, but you'll be hard pressed to find one rolling down the streets of Prescott.
That's because, as The Daily Courier reported in 2016, it's essentially illegal for food trucks to operate within the City of Prescott and Community Outreach Manager John Heiney said last week that none of the regulations have changed from where they were two years ago.
It's a source of frustration, said Dan Thomas, owner of Iron Horse Grille located in the parking lot of Ace Hardware in Chino Valley, 1395 Highway 89. At events, people will ask where his location is throughout the week, Thomas said.
"It doesn't operate like that and people do express disappointment," he said. "In Phoenix, they just travel around and have their stops and people follow them all over the place."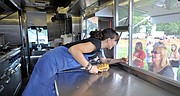 However, a new state law referred to as the Food Truck Bill is going into effect Friday, Aug. 3, creating one state license for food trucks and making it so they can have the same hours as a restaurant. Cities also can't require owners to have separate insurance or block them from parking in public parking spaces.
It affects all municipalities within the state of Arizona and should make it easier for food trucks to do business, Heiney said. Even if the law wasn't coming in to effect, the City of Prescott has been looking at allowing food trucks in certain areas, he said.
"We had already started the process," Heiney said. "It's just going to make it easier for it to happen."
The law was necessary for food trucks to be able to operate in Prescott, said Say Cheese owner Don Sytsma. The bill getting passed was the cornerstone, but it also helped to have a new mayor open to financial change, Thomas said.
It will also allow multiple food trucks to congregate together in a food truck food court. Thomas said he has been working with the City of Prescott to have one at the Prescott Regional Airpark and Commerce Center, where there are so many businesses, but no food.
"What we're trying to do is move the whole stationary setup into that location and serve a very large audience," he said. "That will have to happen on a group level."
Food truck food courts are not a new idea and have been found in cities all over the country, and Thomas said he's in love with the idea. It allows people to travel if they want and if they don't, it provides an outdoor mall experience with an array of different foods, he said.
Thomas also approached the Town of Chino Valley with the idea for a food trick food court last year.
Chino Valley's Planning and Zoning Commission forwarded a request proposed by Bruce Eldredge for a conditional use permit to allow one at 246 Highway 89 at its meeting Tuesday, July 3.
As the law goes into effect in August, things will open up in Prescott on a very local level and could eventually turn into how it looks in Phoenix, Thomas said.
"It's overdue, it's time and I'm just glad we have everything lined up at once," he said.
More like this story
SUBMIT FEEDBACK
Click Below to:
This Week's Circulars
To view money-saving ads...