Monsoons causing power outages in Quad Cities
What to do when the power fails

By
Max Efrein
|
mefrein
Originally Published: July 10, 2018 6:03 a.m.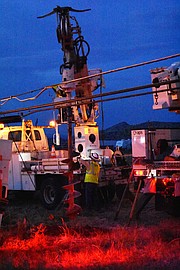 Since monsoon weather began sweeping through Arizona late last week, Arizona Public Service (APS) linemen have been scrambling all over the state in response to power outages.
"Like the crews said today, ''tis the season,'" Arizona Public Service spokesperson Jill Hanks said Monday, July 9.
Prescott was one of the first areas to see some damage, as strong winds ripped through Thursday evening, July 5, damaging a distribution pole in the northwest part of Prescott at around 5:30 p.m., knocking out power for about 1,200 APS customers, Hanks said. Power was restored in sections as crews gradually repaired the pole; all customers were back online by about 10:30 p.m.
A similar incident occurred in Chino Valley two days later on Saturday. This time, the pole was so badly damaged from the monsoons that linemen had to completely replace it. About 2,000 APS customers lost power at about 3 p.m., Hanks said. Once again, power was restored in sections until all customers were back online shortly before midnight.
Then on Sunday, stormy weather struck again, taking out power for about 1,000 APS customers in the northwest part of Prescott at around 2:30 p.m. In this case, the power took only two hours to restore, Hanks said.

At the height of power disruption Sunday night, there were about 22,000 APS customers without power statewide, she said. Most of those customers were in and around Buckeye.
"So our crews have been working around the clock since the storms rolled through," Hanks said.
PREPARING FOR AN OUTAGE
Being prepared can help keep you safe during a power outage. The following are tips on how to do that:
• Place flashlights and extra batteries in handy locations.
• Have your APS account number readily available.
• Keep important phone numbers (i.e. medical, APS, family and friends) by the phone or stored in your cellphone.
• Install surge protectors to protect sensitive electrical items, such as computers.
• If you use medical equipment that requires electricity, call to register for the APS Medical Preparedness Program at 800-253-9405. This alerts APS to your needs in the event of an outage.
• Have a gallon of clean water available for each person and non-perishable foods.
• If you have an automatic garage door, be sure to know how to open the door manually in case you are without power.
WHAT TO DO DURING AN OUTAGE
Follow these tips to stay safe and informed during an outage while APS works to restore your power:
• Visit aps.com/outagecenter or download the company's app to report an outage and view their online outage map.
• Call APS at 855-688-2437 (residential) or 602-371-6767 (business). Reporting an outage helps us to locate and fix the problem faster.
• Don't try to repair electrical problems on your own. Electricity can be deadly.
• Use flashlights. If a flashlight isn't available and you must use candles, keep them away from curtains and other flammable materials. Never leave candles unattended.
• Don't open refrigerators or freezers more than necessary. Food can be preserved for long periods without electricity if the doors are kept closed.
• Turn off and unplug all unnecessary electrical equipment and appliances. This will protect your valuables from electrical spikes and keep the electrical system from overloading when power returns. Wait 5 to 10 minutes after power comes on to plug in and turn on major appliances and electrical equipment.
• If you have a need for electrically operated medical equipment, make arrangements for a place to stay with electricity in the event of an extended outage. In an emergency, call 911.
Note: If your home is the only one without power in your neighborhood, an outage could be because of your home's circuit breaker.
IF YOU SEE A DOWNED POWER LINE
1 - Keep your distance. Stay at least 100 feet away. The ground may be electrified and cause a shock.
2 - If the line is touching your car, stay in your car. The tires are good insulators and will protect you.
3 - If you must leave your car, be sure you don't touch the ground and the car at the same time. Keep your feet together so they both touch the ground at the same time.
If you see someone trapped by a power line, do not try to remove them. Call 911. Then call APS at 855-688-2437.
More like this story
SUBMIT FEEDBACK
Click Below to: