Officials weigh letting Stubbs Fire burn northwest of Prescott
Originally Published: July 9, 2018 2:49 p.m.
A wildland fire of about 1 acre is burning in Camp Wood, about 30 miles northwest of Prescott on the Chino Valley Ranger District, according to the Prescott National Forest, and they just might let it burn.
The lightning-caused blaze – burning in ponderosa pine – started Sunday, July 8, and was zero-percent contained as of noon Monday. One Type III helicopter and two Type II IA crews were fighting the fire.
Named the Stubbs Fire, it was discovered after a large dead-standing pine tree was struck by lightning on Sunday. The area has received about 0.75 inches of rain since Friday and the fire's behavior was not intense Sunday and Monday, according to a PNF news release.
There is one ranch on private land adjacent to the fire, but no significant threat exists to the property, said Debbie Maneely of the forest's Public Affairs division. Firefighters are on scene working to minimize the fire and assess control features at this time.
The weather forecast for the remainder of the week indicates a high likelihood of more rain, she added.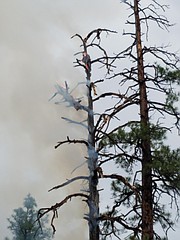 The location of the Stubbs Fire and the time of year are ideal to see desired and beneficial results in restoring the ecosystem in the area, the news release states. Unlike fires during the hottest and driest periods and immediately adjacent to communities, the Stubbs Fire is remote and resulted from a lightning strike at a time when intermittent rains are likely to continue.
With the onset of the monsoons, higher relative humidity during the days and nights will aid in minimizing fire behavior, Maneely wrote. Lightning fires have occurred on this landscape for hundreds of thousands of years and burned freely under similar conditions.
Fire managers and forest leadership are exploring the opportunity and merits of utilizing this naturally ignited fire to improve the health of the forest and reduce the hazardous load of fuel that has accumulated over the years.
While the Prescott National Forest is still under Stage 2 Fire Restrictions and has an area closure in place, the conditions are quickly changing for the better, Maneely said. The conditions exhibited on the Stubbs Fire and the pending weather forecast to include regular periods of rain, allows fire managers to respond to the fire less aggressively and facilitate ecological benefits from this naturally ignited wildfire.
This can be done successfully while the forest monitors conditions and plans for the removal of the area closure and lifting all fire restrictions in the very near future, she said.
The public can obtain additional information, at the Prescott forest's website, http://www.fs.usda.gov/prescott, on Twitter @PrescottNF; Facebook at www.facebook.com/PrescottNF or by calling the Chino Valley Ranger District at 928-777-2200. Also for more on the fire restrictions, visit firerestrictions.us/az.
More like this story
SUBMIT FEEDBACK
Click Below to: