Embry-Riddle dean's first year a whirlwind of programming to assure student success

By
Nanci Hutson
|
HutsonNanci
Originally Published: July 8, 2018 6:04 a.m.
Embry-Riddle Aeronautical University College of Arts and Sciences Dean Kathleen "Kathy" Lustyk admits to a whirlwind year, one she sees as the kick-off to an academic marathon rather than a winded sprint.
"You're drinking through a fire hose, and occasionally you drink a little bit," Lustyk said of the pace she and the faculty have kept since her selection to the position that oversees a college that is growing, changing and expanding resources for some of the fastest-growing majors on the campus.
This college is the largest, and broadest, on the campus as all 3,000 students must take at least certain basic courses taught by some 95 faculty — about 60 are full-time. The college offers degrees in such fields as astronomy, aviation business administration and space physics as well as forensic psychology and wildlife science. One of the fastest-growing majors on campus is forensic biology — think the television series trio of CSI: Crime Scene Investigation."
"The skills they get give me chills," Lustyk said of the state-of-the-art labs and professional equipment these students use as part of their coursework.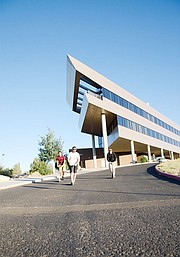 The 53-year-old physiological psychology professor and researcher comes to Prescott from Woodinville, Washington, where she was the chairman of the psychology department at Seattle Pacific University. She, too, served on the faculty at the University of Washington where she conducted research studies related to women's health. Lustyk and her husband, Michael, have two young adult sons, Zachary, an electrical engineer, and Luke, a Prescott High School sophomore.
Embry-Riddle conducted a national search to replace former dean Archie Dickey. Lustyk emerged as the top candidate from a field of more than 50 applicants.
"Dean Kathy Lustyk is just the right fit for Embry-Riddle, combining leadership and academic excellence with a caring heart," said Chancellor Frank Ayers. "She has brought in fresh perspectives, is recognized as a leader across the university, has engaged with the community, and is bringing new ideas and academic programs to the campus."
Most importantly, Ayers said, Lustyk takes the time to "really care for her faculty, staff and students."
Lustyk said she wants to lead a team that embraces connections with industry that enables students to get real-life experience in their fields so they are the top candidates for jobs upon graduation.
One of the things that attracted her to Embry-Riddle is that faculty and students are all about life beyond the classroom.
"It's just thrilling to see that, because it's not typical," she said.
As for her academic leadership style, Lustyk is touted by colleagues and former students as a strong mentor, be it with students she instructed in laboratory settings or with faculty as she works alongside them to implement new curriculum and launch new programs.
"I want to make sure faculty flourish because then your students get that best experience," Lustyk said.
Five Embry-Riddle Prescott faculty and student researchers were part of the 2017 Nobel-Prize winning research into the Laser Interferometer Gravitational-Wave Observatory (LIGO).
"These are scary, smart people," Lustyk said.
Embry-Riddle may have an international reputation for preparing students to pursue aviation, but that does not limit students to just becoming pilots or engineers.
Lustyk said she likes that the possibilities for students are endless.
After spotting a mountain lion in her new backyard, Lustyk said she recognized the Prescott region is the perfect place for students to study wildlife science as it applies to flight and airport safety.
"This is an incredible natural laboratory," Lustyk said.
Her own path to earning her doctorate in physiological psychology with a specialty in endocrinology occurred after she started a pre-medicine degree in the mid-1980s and realized she did not have "patience for patients."
She found she wanted to "solve problems" and moved into research.
Along the way, she navigated some pitfalls — she had to opt out of behavioral neuroscience because of a life-threatening allergy to rats. Still, she persevered and used her scientific acumen to work with humans, honing in on how to improve women's health through "mindfulness" and fitness.
At Seattle Pacific University, Lustyk ended up as director of the Women's Health Lab that bears her name. She conducted groundbreaking research related to how women's careers and stresses impact digestive ailments, such as irritable bowel syndrome. She also was involved in addiction research.
"That was just one of the fun things I got to do," she said of her multi-faceted career. "I've really been blessed."
Ayers declared Lustyk, and her family, have "seamlessly become an integral part of the Embry-Riddle family."
"I am proud to call her a friend and colleague," he said.
More like this story
SUBMIT FEEDBACK
Click Below to:
This Week's Circulars
To view money-saving ads...