Days Past: A basketful of stories
Dave Lewis, Special to the Courier
Originally Published: July 8, 2018 6:05 a.m.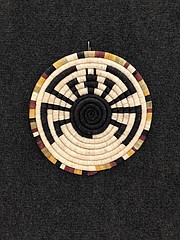 There was a time that wicker luggage was all the rage. Families might pack things they needed and head out on a great adventure. Or they might move from their winter homes to their summer places. Strong, lightweight wicker served for carrying their possessions.
If this conjures up images of wealthy families in the Hamptons, put that notion aside and cast your vision and imagination back a thousand years or more.
Wicker "luggage" in the form of burden baskets has been in use for ages. In the Southwest, anthropologists trace basketry back to the appropriately named Basketmaker Cultures that began around 7000 B.C.E. At first nomadic hunter-gatherers, Basketmaker Cultures slowly progressed to more sedentary, agriculture-based societies. Hunter-gatherers used baskets for carrying the foods they gathered — nuts, berries, seeds. As maize-based agriculture progressed, baskets were vital for storing seeds for next season's crops. And, when Natives exhausted resources or water sources dried up, they packed up their burden baskets and moved.
Baskets figured into just about every aspect of daily life. A tightly-woven bulb-shaped basket sealed with pitch and tied to a sash about a hunter's waist could carry a day's supply of water. Larger woven water jars were used to bring water from streams or springs back to home or camp. Women cooked food in baskets. Hot rocks were lifted from fire pits into baskets of food. A skillful cook would use sticks to keep the rocks moving as food simmered or fried — all in woven baskets, which with much use ". . . filled with the grease of many stews, aged hard as boards, and rang like pottery when struck. . . " Baskets were woven as bassinets and wedding gifts.
"Wicker" refers to a style of weaving, rather than to a particular material. Other weaving styles were "coiled" and "plaited." Materials varied, but often included reeds, willows, grasses, yucca, sumac and rabbit bush. Regardless of material or technique, basic basket-making is a matter of weaving together warp and weft at right angles and building a basket from the bottom up.
Decoration of the basket is another matter. Even though basic construction varies very little, different tribes and clans developed very distinct decorative patterns. Animal and human figures and spiritual beings were common motifs.
A tribe's baskets can be interpreted to learn of the people's history. A brilliant permanent exhibit at the Sharlot Hall Museum called "The Baskets Keep Talking" focuses on baskets to tell the story of the Yavapai-Prescott Indian Tribe.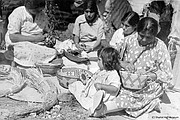 "Baskets have stories, songs, and genealogies. They have helped us on our travels and told us who we are as a people. They have healed the sick and forecast momentous events. The weaver's hands move and the basket takes form so that the story can be known. And the baskets keep talking." (Greg Sarris)
In 1875, the Yavapai people were forced to march 180 miles southeast to a dreadful internment at San Carlos. Army wife Fanny Corbusier tells a story of the march:
"They had to carry all their belongings on their backs and in their V-shaped baskets, old and young with heavy packs. One old man placed his aged and decrepit wife in one of these baskets, with her feet hanging out, and carried her on his back, the basket supported by a band over his head, almost all the way. He refused help, except at several stream crossings, where he was persuaded to allow a trooper to take her across on his horse. Over the roughest country, through thick brush and rocks, day after day, he struggled along with his precious burden — un-complaining."
Around 1900, the Yavapai were freed from San Carlos and most of those who survived returned to their ancestral lands. Basket-making continued into the 20th Century, but steadily declined as store-bought wares replaced baskets in the household. Yavapai women tried to find some commercial success selling baskets to tourists and collectors, but the "rewards" for their efforts were not worth it. A weaver might spend months creating a basket for which she would be paid seventy-five cents. For various reasons, including better access to commercial markets and tourists, Hopi basketmakers had better commercial success.

The 21st Prescott Indian Art Market will feature 120 artists in painting, photography, jewelry, carving and sculpture, pottery, basketmaking, weaving and clothing design. The Market is July 14-15 at the Sharlot Hall Museum from 9 a.m. to 5 p.m. on Saturday, and 9 a.m. to 4 p.m. Sunday. Five Hopi basketmakers will be on hand to demonstrate basket-making, explain the baskets' uses, and, of course, offer beautiful contemporary baskets for sale. The "Baskets Keep Talking" exhibit will be open as well.
"Days Past" is a collaborative project of the Sharlot Hall Museum and the Prescott Corral of Westerners International (www.prescottcorral.org). This and other Days Past articles are also available at https://www.sharlot.org/articles/days-past-articles.l. The public is encouraged to submit proposed articles and inquiries to dayspast@sharlot.org. Please contact SHM Library & Archives reference desk at 928-445-3122 Ext. 2, or via email at archivesrequest@sharlot.org for information or assistance with photo requests.
More like this story
SUBMIT FEEDBACK
Click Below to:
This Week's Circulars
To view money-saving ads...