Bradshaw Mountain softball's Duryea named sophomore All-America
Prep Softball
By
Doug Cook
|
dougout_dc
Originally Published: July 8, 2018 6:05 a.m.
Centerfielder swatted program-record 20 home runs in 2018
PRESCOTT VALLEY — Bradshaw Mountain softball star centerfielder and slugger extraordinaire Madisen Duryea this past week earned a spot on the 2018 MaxPreps Sophomore All-America Team for her record-breaking spring season in a Bears uniform.
In 28 games for Bradshaw Mountain, Duryea hit a team-best .551, blistering a single-season program record 20 home runs to go along with 63 RBIs. She scored 53 runs and tallied a 1.337 slugging percentage in leading the Bears to an Arizona Interscholastic Association (AIA) 4A state tournament playoff berth.
Bradshaw Mountain coach Sharon Haese, who nominated Duryea for MaxPreps Player of the Year, was overjoyed that Duryea garnered All-West Region and All-America honors. Duryea has made a verbal commitment to play at NCAA Division II Dixie State University in St. George, Utah, starting with the 2020-21 academic year.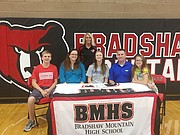 "I didn't find out about the [All-West/All-America] nomination that coach Haese put me in for until it actually came out, so I was like super surprised," Duryea said. "It was just good knowing that she put me in for that award."
This past spring, the 16-year-old Duryea registered six multi-home run games in the No. 3 hole. In three of those six contests, she rocked three homers. She finished two homers shy of tying the state's single-season HR record of 22.
In the field, Duryea sparkled with a .957 fielding percentage, committing only one error. For her efforts, Duryea also claimed All-State, 4A Conference and Grand Canyon region First-Team honors, as well as 4A and Grand Canyon region Offensive Player of the Year accolades.
"Going into this season, I had no idea anything was going to happen like this," Duryea said. "I'm just in shock. It's all just so crazy and great."
Throughout the 2017-18 academic year, Duryea said she practiced hitting two to three days a week on her own and continued doing that after team practices in the spring. She and her Bears teammates also lifted weights once or twice a week during their seventh-hour class.
"We focused on a lot of workouts to help support us with our games, and I think it did [help me be a better hitter]," Duryea said.
Duryea isn't only a phenomenal athlete, though. This past year, she excelled in the classroom, posting a weighted GPA of 4.30 after completing Pre-AP Algebra 2 and Pre-AP chemistry.
"It was a real honor to play with Madisen Duryea," said Bears shortstop Cailee Morgan, who graduated in May.
"She made me a better ballplayer by constantly pushing me to do my best. Maddy was an overall great teammate, and I'm going to miss her a lot."
Prior to the All-America announcement, Duryea snared an important honor.
On July 2, the National Fastpitch Coaches Association (NFCA) named Duryea to the All-West Region First Team. Haese said the NFCA chose 160 athletes from Alaska, Arizona, California, Colorado, Hawaii, Idaho, Montana, Nevada, New Mexico, Oregon, Utah, Washington and Wyoming to represent the West Region on either a First Team or a Second Team.
"Once I had looked into it, and actually realized what it was, it was an honor because it's 16 girls in the West Region, and I made First Team," Duryea said. "That's pretty crazy."
With Duryea's selection to the All-West Region First Team, she became an automatic candidate/nominee for the All-America team, one in which MaxPreps picked three teams of approximately 48 girls, Haese added. MaxPreps plans to post its entire All-America list on Monday, July 9, the coach said.
"I cannot tell you how excited I am. This has been a very special season for this special young lady," Haese said of Duryea. "I don't know when we will see another softball athlete like this come through here again."
Haese, an NFCA member who nominated Duryea to the All-West Region First Team June 18, met with Madisen and her family this past week of July 1 to congratulate her on her All-America honor. Haese added that NFCA "is a huge organization, from traveling ball all the way up to [NCAA] Division I coaches."
"Thousands of coaches across the U.S., which include Hall of Famers, are highly involved in this organization, which is filled with many committees to advance and improve the sport and recognize athletes at all levels," added Haese, who attended the NFCA Conference in Las Vegas this past December.
Currently, Duryea has been playing club softball over the past month for Phoenix-based Firecrackers K under coach Randy Kaye. Within the past week, the Firecrackers placed fifth out of 64 of the nation's top club teams in the super pool at a high-profile tournament in Colorado.
So, what can Bears fans expect from Duryea for an encore next spring?
"Going out of this season and finishing pretty strong with 20 home runs and breaking records and all this, that was kind of a once-in-a-lifetime thing," Duryea said. "Next season, who knows what's going to happen? Maybe it could be better. Maybe it'll be worse. But I'm just honored and glad that I had the season that I did for this year."
BEARS SS MORGAN SIGNS WITH MONTANA ST.-BILLINGS
Bradshaw Mountain's Morgan, a 4A Grand Canyon region First-Team selection, signed a letter of intent to suit up for NCAA Division II Montana State University Billings July 5 at Gary Kunow Gym in Prescott Valley.
"She is one of the best players to play for our softball program," coach Haese said of Morgan, whose family attended the signing ceremony.
Morgan said she's "really excited for the new opportunities" at Montana State Billings, where she will enroll as a freshman for the 2018-19 school year. She will play at the university on an academic and an athletic scholarship. Morgan, who scored a 3.80 cumulative GPA at Bradshaw Mountain, plans to start for MSU Billings and could play shortstop or in the outfield.
"I get to meet new teammates in a new state, and I get to play all over the country," she said.
Duryea said she played softball with Morgan since she was 10 years old.
"She's a great ballplayer, and I know she has always got my back no matter what, whether it's with school, outside of softball, on the field, off the field, at practice," Duryea added about Morgan. "I'm excited for her to go to Montana State Billings because Dixie State actually will play against them, so I'm looking forward to seeing her in few years."
More like this story
SUBMIT FEEDBACK
Click Below to:
This Week's Circulars
To view money-saving ads...