Amazing Places: Salida Gulch and petroglyphs

Originally Published: July 8, 2018 6 a.m.
This week we're staying close to Prescott, ready to visit some petroglyphs along Salida Gulch. Many petroglyphs, especially those with multiple panels, require a difficult drive and/or a long hike, often with some bush whacking.
I described some unusual red-rock petroglyphs near Montezuma Well in my April 29 column, and will describe more in future articles.
The petroglyphs featured today are probably the closest to town, with a short easy drive – although the last mile is on a dirt road, but drivable carefully by a sedan. The hike from the trailhead is less than one mile along an interesting trail, an official trail – no bush whacking! Some of you may be familiar with these particular ancient inscriptions, while they will be new to others (see photo #1 for petroglyph panel).
For detailed directions and a map, you'll have to contact me via the Courier's senior news editor, Tim Wiederaenders (twieds@prescottaz.com); subject line "Salida Gulch."
The hiking trail is Salida View #95 (its earlier name and number was Salida Gulch #93). A few yards from the trailhead, the trail crosses Lynx Creek, which is almost always dry in the summer. It flows only in the winter and spring, or after a heavy monsoon storm that causes the dam at Lynx Lake to let water pass; if the creek is running heavily when you visit, you'll have to return another day.
The confluence of Salida Creek (a minor side creek) with Lynx Creek is at this crossing point. Trail 95 soon goes upstream, right next to "Salida Gulch" – an apt name for this part of the small creek because of its steep and rocky sides.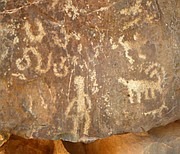 As a Brit, the word "gulch" sounds very rough and Western – I don't think it is used much back East, and certainly not in England. I have hiked Salida Gulch many times and it has never been flowing, though you may find a pool or two if you go after a heavy rainstorm.
Over a century ago gold miners explored this area. Above on your right where the gulch peters out, there's an old mining pit/shaft (off the trail). The detailed directions will help you find this if you're interested – it isn't dangerous or I wouldn't mention it. After that location, the trail soon becomes fairly level, winding along a valley. There are numerous outcroppings of black basalt (lava rock) on both sides of this valley, but only one of these has petroglyphs, as shown in the first photo.
After reading my articles, you should know that a petroglyph is carved into the rock, whereas a pictograph has been painted onto the rock (my Feb. 4 article showed pictographs in Sedona).
Photo #2 is a close up of the main petroglyph panel – you can see a human figure at the bottom and a bighorn ram to the right. If you were standing in front of these figures, you could see they were made by a hammer pounding on a pointed chisel – both the hammer and chisel were stone tools! There are a few additional recognizable figures in the full petroglyph panel but I cannot interpret the other symbols and squiggles. I'm sure they had meaning to the tribe that inscribed them.
The Yavapai tribes moved into this area around 1300 CE (AD). They were hunter-gatherers so maybe these petroglyphs were theirs, but perhaps an even earlier people. I claim no expertise in dating petroglyphs.
Equally, if any knowledgeable readers find errors in what I have written about history, geology, flora, fauna or any other subject, please contact me through the Courier with your corrections.
I'm always willing to learn.
Nigel Reynolds was born in England and has lived in Arizona for 40 years, and in Prescott for over 20 years. "Exploring is in my blood," he says. To see today's or previous articles with the photos in color, visit dCourier.com and enter "Amazing Places" in the search-bar at top right.
More like this story
SUBMIT FEEDBACK
Click Below to: