87-year-old Prescott artist Richard Landis showing at the Smithsonian
Creations made in his own unique style

Originally Published: July 7, 2018 6:02 a.m.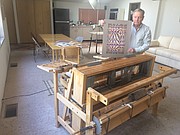 When Prescott-based textile artist Richard Landis started weaving in the 1960s, he never thought his work would end up at the Smithsonian.
In June, the Cooper Hewitt Smithsonian Design Museum in New York City began showing Landis' work in an exhibit titled "Color Decoded: The Textiles of Richard Landis." A master weaver who studied and majored in Fine Arts at Arizona State University, Landis said his interest in weavings began when he went to Japan while in the military.
"I saw the silk kimono cloths and I made a collection of the old silk obis that were woven (more than) 100 years ago," Landis said. "I just got real interested in fabric, I learned to weave with a weaver in Sedona … what I could do in weaving is what really interested me."
Landis said he was looking at everything he could, from what he found at the museums while in Japan to his own discoveries while taking a tour of his own through Europe. He looked in museums everywhere, but never thought that one day his work would end up at the Smithsonian.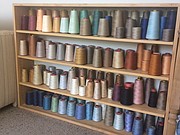 It took him about a decade to really get into the art and find what worked for him, Landis said. Weaving is a little bit like dancing, he added.
"Things are so firmly put together you can't hardly believe it," Landis said. "When they're finished and everything, they're practically stiff because they're so hard beaten."
With his preferred structure, double cloth, he could simultaneously weave two parallel planes of fabric, allowing for the creation of multicolored complex patterning.
On his loom, Landis has metal weights hooked onto to the beater. It allowed him to make creations that nobody else was doing, he said, adding that it was all completely his own thing that he developed and it wasn't replicated by anyone anywhere else.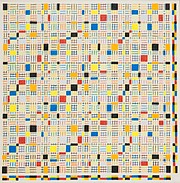 The exhibit features examples of Landis' textile work created from 1967 to 1995 along with process drawings demonstrating how he calculates and visualizes every permutation possible within a defined set of colors.
The weavings themselves could be completed in a matter of days, but it could take months to figure out all the intricacies on paper, from comparing all the tones and hues available to designing a geometric pattern.

At 87 years old, Landis said he hasn't woven in more than 20 years. He got simpler and things got more complex, he said. He doesn't miss it though.
"I do other things. When I said that I'm 87, that's only three years from 90," Landis said. "You stop doing stuff before you get there."
"Color Decoded: The Textiles of Richard Landis" is on view at the Cooper Hewitt Smithsonian Design Museum through Sunday, Jan. 13. For more information, visit www.cooperhewitt.org/chanel/color-decoded.
More like this story
SUBMIT FEEDBACK
Click Below to: