Saturday event offers many unique items at Batterman's Auction

Originally Published: July 5, 2018 6:05 p.m.
Batterman's Auction is putting on its Quality Antique Art & Firearms Auction this weekend, giving the public a chance to bid on plenty of unique items.
One notable item is a Rembrandt etching, said Batterman's Auction owner Kurt Vogel. Not only is it kind of cool, but it's not something that pops up as everyday auction fodder in Prescott.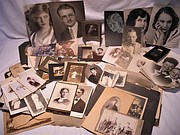 There's also a map of early Arizona cartography that's in excellent condition. It illustrates the current understanding of what the geography of the West was and Arizona is split east/west, Vogel said. There's even a rare Hubley Harley collectible up for auction.
"Motorcycles always pique people's interest because they're motorcycles," Vogel said. "When you have early examples of that in the form of a toy like that, it appeals to many people that may have even seen that toy as a child or experienced it through their parents' or grandparents' ownership of it."
Running from 11 a.m. to 3:30 p.m. Saturday, July 7, at Batterman's Auction, 400 W. Gurley St., other items include a mid-century Tom Green chandelier, dining sets, couches, chairs, animal mounts, glassware, jewelry, crystals, geodes and firearms.
There's a lot that goes into these auctions, starting with the intake portion, Vogel said. Intake is comprised of going over the individual items, treating them carefully and doing everything possible to make sure the buyer and seller gets everything they can out of it, he said. As for the auction itself, Batterman's offers buyers a chance to bid on things not normally available or, if an item has been at Batterman's for a while, an opportunity to get it at a reasonable price.
"It's an interesting business, you never know what you're going to see," Vogel said. "One day it might be a hand grenade, the next day it might be … a signed Picasso, which we recently got."
The whole auction process is something of a spectacle, Vogel said. The personal contact it has as opposed to online bidding makes it interesting as well, he said. That personal touch also needs a good balance between giving people a chance to understand what's going on and keeping pace. To help maintain that balance, Batterman's has a catalogue it prints out to make it easy to see what's coming up and there are also photos of items online.
Batterman's is also open for previews the day before the auction as well as a couple hours before the auction starts Saturday.
"If they want to come down and look at it, kind of see what it is they might be interested in, they can leave left bids, they can leave phone bids," Vogel said. "There's just a bunch of different ways for them to bid."
The morning-of preview begins at 9 a.m.
For more information or to view items, visit www.Battermans.com.
More like this story
SUBMIT FEEDBACK
Click Below to: