Now Showing: Week of July 6
Originally Published: July 5, 2018 6:10 p.m.
Movies playing at Harkins Theatres, 7202 Pav Way, Prescott Valley (Highway 69 between Glassford Hill and Lake Valley roads), as of press time. 928-775-7444; www.harkins.com.
(NEW) ANT-MAN AND THE WASP – Scott Lang is grappling with the consequences of his choices as both a superhero and a father. Approached by Hope van Dyne and Dr. Hank Pym, Lang must once again don the Ant-Man suit and fight alongside the Wasp. The urgent mission soon leads to secret revelations from the past as the dynamic duo finds itself in an epic battle against a powerful new enemy. Stars Evangeline Lilly, Paul Rudd, and Michael Douglas. Rated PG-13 – fantasy, science fiction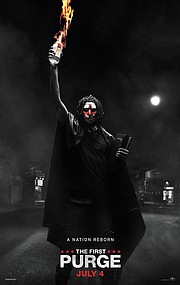 (NEW) THE FIRST PURGE – To push the crime rate below one percent for the rest of the year, the New Founding Fathers of America test a sociological theory that vents aggression for one night in one isolated community. But when the violence of oppressors meets the rage of the others, the contagion will explode from the trial-city borders and spread across the nation. Stars Lex Scott Davis, Y'lan Noel, and Marisa Tomei. Rated R – fantasy, crime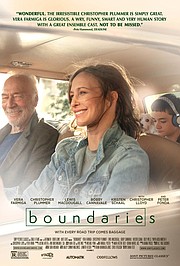 (NEW) BOUNDARIES – Laura and her son Henry are forced to drive her estranged, pot-dealing, carefree father Jack across country after being kicked out of a nursing home. Stars Vera Farmiga, Christopher Plummer, and Lewis MacDougall. Rated R – Comedy, drama
Also showing:
JURASSIC WORLD: FALLEN KINGDOM – Three years after the destruction of the Jurassic World theme park, Owen Grady and Claire Dearing return to the island of Isla Nublar to save the remaining dinosaurs from a volcano that's about to erupt. They soon encounter terrifying new breeds of gigantic dinosaurs, while uncovering a conspiracy that threatens the entire planet. Stars Bryce Dallas Howard, Chris Pratt, and Jeff Goldblum. Rated PG-13 – science fiction, action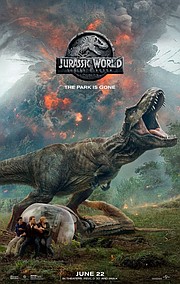 INCREDIBLES 2 - Elastigirl springs into action to save the day, while Mr. Incredible faces his greatest challenge yet -- taking care of the problems of his three children. Voiced by Brad Bird, Samuel L. Jackson, and Holly Hunter. Rated PG – action, adventure
SICARIO: DAY OF THE SOLDADO - FBI agent Matt Graver calls on mysterious operative Alejandro Gillick when Mexican drug cartels start to smuggle terrorists across the U.S. border. The war escalates even further when Alejandro kidnaps a top kingpin's daughter to deliberately increase the tensions. When the young girl is seen as collateral damage, the two men will determine her fate as they question everything that they are fighting for. Stars Benicio del Toro, Josh Brolin, and Isabela Moner. Rated R – drama, crime
UNCLE DREW – After draining his life savings to enter a team in the Rucker Classic street ball tournament in Harlem, Dax (Lil Rel Howery) is dealt a series of unfortunate setbacks, including losing his team to his longtime rival (Nick Kroll). Desperate to win the tournament and the cash prize, Dax stumbles upon the man, the myth, the legend Uncle Drew (NBA All-Star Kyrie Irving) and convinces him to return to the court one more time. The two men embark on a road trip to round up Drew's old basketball squad (Shaquille O'Neal, Chris Webber, Reggie Miller, Nate Robinson, and Lisa Leslie) and prove that a group of septuagenarians can still win the big one. Stars Kyrie Irving, Tiffany Haddish, and Nate Robinson. Rated PG-13 – comedy, sports
OCEAN'S 8 - Five years, eight months, 12 days and counting -- that's how long Debbie Ocean has been devising the biggest heist of her life. She knows what it's going to take -- a team of the best people in the field, starting with her partner-in-crime Lou Miller. Together, they recruit a crew of specialists, including jeweler Amita, street con Constance, suburban mom Tammy, hacker Nine Ball, and fashion designer Rose. Their target -- a necklace that's worth more than $150 million. Stars Rihanna, Sandra Bullock, and Cate Blanchett. Rated PG-13 – thriller, crime
TAG - One month every year, five highly competitive friends hit the ground running for a no-holds-barred game of tag -- risking their necks, their jobs and their relationships to take one another down. This time, the game coincides with the wedding of the only undefeated player. What should be an easy target soon becomes an all-out war as he knows they're coming to get him. Stars Jeremy Renner, Annabelle Wallis, and Isla Fisher. Rated R – comedy
WON'T YOU BE MY NEIGHBOR? – Filmmaker Morgan Neville examines the life and legacy of Fred Rogers, the beloved host of the popular children's TV show "Mister Rogers' Neighborhood." Stars Joanne Rogers, Francois Clemmons, and Yo-Yo Ma. Rated PG-13 – documentary
DEADPOOL 2 – Wisecracking mercenary Deadpool joins forces with three mutants -- Bedlam, Shatterstar and Domino -- to protect a boy from the all-powerful Cable. Stars Ryan Reynolds, Josh Brolin and Morena Baccarin. Rated R - Action & Adventure, Comedy
SOLO: A STAR WARS STORY – Through a series of daring escapades, young Han Solo meets his future co-pilot Chewbacca and encounters the notorious gambler Lando Calrissian. Stars Alden Ehrenreich as Han Solo, Emilia Clarke as Kira, and Donald Glover as Lando Calrissian. Rated PG-13 – fantasy, science fiction
ADRIFT - Tami Oldham and Richard Sharp couldn't anticipate that they would be sailing directly into one of the most catastrophic hurricanes in recorded history. In the aftermath of the storm, Tami awakens to find Richard badly injured and their boat in ruins. With no hope of rescue, Tami must now find the strength and determination to save herself and the only man she has ever loved. Stars Sam Claflin, Elizabeth Hawthorne, and Jeffrey Thomas. Rated PG-13 – drama, thriller
FERDINAND – Ferdinand is a young bull who escapes from a training camp in rural Spain after his father never returns from a showdown with a matador. Adopted by a girl who lives on a farm, Ferdinand's peaceful existence comes crashing down when the authorities return him to his former captors. With help from a wisecracking goat and three hedgehogs, the giant but gentle bovine must find a way to break free before he squares off against El Primero, the famous bullfighter who never loses. Voiced by John Cena, Carlos Saldanha, and Kate McKinnon. Rated PG – fantasy, adventure
More like this story
SUBMIT FEEDBACK
Click Below to:
This Week's Circulars
To view money-saving ads...