Garth Guy salutes '90s Garth Brooks on Saturday

Originally Published: July 5, 2018 6:21 p.m.
Third-generation country music singer Dean Simmons is returning to the Elks Theatre this weekend, putting on his "The Garth Guy" tribute to Garth Brooks.
Having grown up playing country music in a musical family, Simmons said after a while of singing, he got a lot of comments about how much he sounded like Brooks. In 1994, he had the opportunity to tribute the country music star and two years later got a job in Las Vegas with Legends in Concert, he said.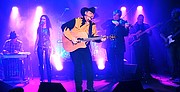 "I accidentally had a knack for it without really trying," Simmons said.
Starting at 7 p.m. Saturday, July 7, tickets for "The Garth Guy" are $25 for adults and $22 for seniors. They are available online at www.prescottelkstheater.com, by calling 928-777-1370 or at the door one hour prior to the performance.
Simmons said watches all he can of Brooks and his shows in order to keep "The Garth Guy" show as authentic as possible. He even updates it when necessary, adding in Brooks' recent number one hit, he said. Still, Simmons likes to keep the show focused on older Brooks.
"This tribute is more '90s Garth than current Garth," he said. "I stick to doing a tribute of the '90s, which is like his heyday."
When it comes to the songs he enjoys singing more than any other, Simmons said his personal favorite is "The Thunder Rolls," which he likes because of the dramatic presentation. He also enjoys "Friends in Low Places," he said. None of it contains any prerecorded tracks either, with Simmons singing with a live band.
"The Garth Guy" is definitely a high energy show and anybody who is a fan of music in general is going to enjoy it, Simmons said. In fact, even people who aren't necessarily country fans will come up to him afterwards to tell him how much they liked it, he said.
"There's a little something for everyone," Simmons said.
The Elks Theatre and Performing Arts Center is located at 117 E. Gurley St.
More like this story
SUBMIT FEEDBACK
Click Below to: