Book review: Midnight at the Bright Ideas Bookstore, by Matthew Sullivan
Notable books listed
Susan Lang, Peregrine Book Company Event Coordinator
Originally Published: July 5, 2018 6 p.m.
I had to fight to force myself put down Matthew Sullivan's delightful, Midnight at the Bright Ideas Bookstore, whenever work and other responsibilities pulled me away from it. I so wanted to stay with this compelling work to the last satisfying word. On the other hand, spreading out the reading sessions gave me more time in between to savor and appreciate the quirky characters and richly layered plot, with its unexpected twists and turns as the puzzle slowly comes together.
The mystery begins on page one at midnight, bookstore closing time, when staff member and main character, Lydia, hears "the distant flap of paper wings as the first book fell from its shelf. She imagined a sparrow had flown through an open window again and was circling the store's upper floors, trying to find its way out." When another falls, then another "faint flap...followed by a few more in rapid succession: flap-flap-flap," she knows this is no trapped sparrow. It's not until all the customers and BookFrogs are gone and the store is safely closed and locked up, that she goes upstairs to see what is happening, and a bigger mystery starts to reveal itself.
Sullivan's characters are not only indelible but each one is wonderfully eccentric; Lydia herself, it can be said, is hiding from her past in plain sight. Little is what it seems in this book, including the characters and especially the BookFrogs like Joey and Lyle. Their presence enriches the novel. "To the inexperienced, many BookFrogs appeared as derelict or homeless, but to the seasoned eye it was clear that they had shed themselves of the world, rejecting its costumes and rules in favor of paper and words," Lydia tells us.
I've done my best here to show bits of the deliciousness without giving away any spoiler alert material in this novel that Kirkus Review called "intriguingly dark, twisty" and "a standout." Indeed it is – don't miss it!
NOTABLE BOOKS
Publisher's Weekly's starred review of Michael Orenduff's The Pot Thief Who Studied Edward Abbey, reminds readers of the author's success in again combining "humor and homicide in his superb eighth Pot Thief whodunit." Orenduff's satire of "politics and political correctness in the service of a fair-play plot" is helped by the contrast of his part-time investigator's own unapologetic unearthing of ancient Native American pottery that he sells in his Albuquerque store (which is another story in itself). In this book, Hubie Schuze has been offered a position at the University of New Mexico, which he decides to accept. He quickly becomes invested in the thankless task of connecting with "device-addicted' millennials. While he dodges bullets that come as a result of this as well as from a sexual harassment claim from that a student he turned down when she offered to sleep with him for a better grade, he suddenly becomes a murder suspect when one of his other students is found dead inside a plaster cast. And the fun begins.
Michael Orenduff will be at the Peregrine Book Company at 2 p.m. Sunday, July 15, to talk about this and other works in his series and about his success in writing and publishing books set in the southwest.
In the Droom, by Heitham Al-Sayed is a mindbending work of magical fiction — part nouveau roman, part out of body experience — in which multiple realities appear to overlap in a fevered dream state. "Al-Sayed's malfunctioning mist of multiple realities, pour in through a crack in the wall to cover stuff that doesn't really belong to you," the cover proclaims about this trippy book. The novel is a staff pick by the Peregrine's David, who says its setting is in "a shifting yet familiar subterranean, subconscious reality." It can be a treat for those readers who like a quantum mind challenge.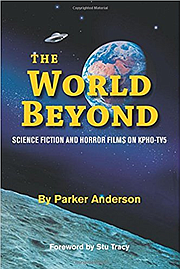 The World Beyond, by Parker Anderson — Arizona historian Parker Anderson pays tribute to KPHO's long-running program (1964-1988), The World Beyond, which featured old-time science fiction, horror, and monster movies, and introduced Arizona children to Godzilla among many other cinematic creatures. Drawing on research conducted by Logan Blackwell, Parker Anderson follows the history of The World Beyond with background data and a complete list of movies shown on the program, as well as with reproductions of vintage ads for the show that appeared in Arizona periodicals. Wallace and Ladmo make an appearance and the book has a foreword by retired KPHO announcer Stu Tracy, whose dramatic "Join us now....." introductions were an inseparable part of The World Beyond. For lifelong Arizona residents, this book is a sweetly nostalgic trip down "memory lane."
More like this story
SUBMIT FEEDBACK
Click Below to: