Venue of 'World's Oldest Rodeo' has more than a century of history
Then & now

By
Cindy Barks
|
Cindy_Barks
Originally Published: July 4, 2018 6:04 a.m.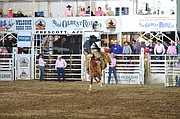 As the name implies, the "World's Oldest Rodeo" is steeped in history — about 130 years of it.
In fact, the "Cowboy Contests" that took place in Prescott in 1888 are credited with launching professional rodeo.
While the rodeo's venue does not go back quite as far as the event itself, the current Prescott Rodeo Grounds site has plenty of history of its own.
According to the rodeo's website, www.worldsoldestrodeo.com, the early rodeo arena was nothing more than a tract of land in Forbing Park, located off Iron Springs Road. The area is described as "very much unimproved, and roped off to keep the broncs from running away after they unseated their riders."
That rustic location lasted a couple of decades, before the event moved to its current location, at 840 Rodeo Drive.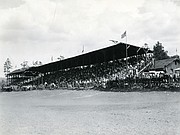 That spot in central Prescott, now known as the Prescott Rodeo Grounds, dates back just over a century – to 1913, when a committee of the Yavapai County Fair Association kicked off the Prescott Frontier Days committee.
The current footprint of the rodeo grounds took shape about two decades later, when the venue then known as the Northern Arizona State Fairgrounds benefited from the Depression-era efforts of the Works Progress Administration (WPA) and Civilian Conservation Corps (CCC).
The Rodeo Grounds' Grandstand and two rock buildings (the Pardee and Freeman buildings) were constructed, beginning in 1934, by the two programs that put people to work during the Great Depression.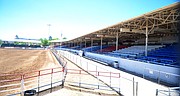 The Living New Deal website, www.livingnewdeal.org, notes that the projects took place on a 40-acre parcel on the Northern Arizona Fairgrounds in an effort to "develop the grounds into one of the finest recreational areas in the Southwest."
Quoting the official account by the Emergency Relief Administration (ERA), the website states: "The timbered section which lies west of the grandstand which is used for the famous Smoki Smoke Dance, for the celebrated Frontier Days celebration, and other community gatherings, is as delightful a section of mountain country as can be found in the state."
While the original grandstand has seen a number of improvements over the years, it still resembles the structure that Depression-era workers constructed in the 1930s.
The two rock buildings are also still in use, as is the "Trail to the Top" route that city workers and volunteers unearthed in 2011. The recreational trail, which federal laborers reportedly built in their spare time in the 1930s, begins behind the Doc Pardee and Danny Freeman buildings and climbs to an overlook.
More like this story
SUBMIT FEEDBACK
Click Below to:
This Week's Circulars
To view money-saving ads...