Roper Seth Hall claims all-around rodeo title
World's Oldest Rodeo
By
Doug Cook
|
dougout_dc
Originally Published: July 4, 2018 6:35 p.m.
Photo Gallery
Perf 8 Prescott Frontier Days Rodeo 070418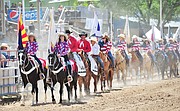 PRESCOTT — Seth Hall of Las Lunas, New Mexico, won his first all-around buckle at the Prescott Frontier Days Rodeo on Wednesday, July 4, taking home a payout of more than $3,100 in team roping and tie-down roping.
The all-around buckle goes to the rodeo athlete who earns the most money competing in more than one event.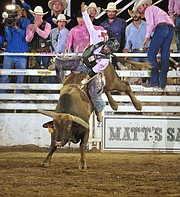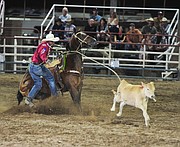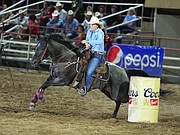 In team roping, Hall, a 28-year-old heeler, and his header partner Tanner Baldwin of Vail, Arizona, finished in second place overall with a total time of 12.5 seconds after two go-arounds. Hall and Baldwin nabbed more than $2,900 apiece for their efforts. Hall, who joined the Professional Rodeo Cowboys Association (PRCA) in 2009, was the tie-down roping champion at the Turquoise Circuit Finals (cowboys from Arizona and New Mexico only) last October at Prescott Valley Event Center.
Hall's victory at Prescott Frontier Days represents his fourth all-around win of the 2018 season. Hall had already picked up all-around buckles from the Wild Wild West ProRodeo in Silver City, New Mexico, the Rodeo de Santa Fe in New Mexico, and the Roots N Boots Queen Creek Pro Rodeo.
He also won tie-down roping buckles at Silver City, Roots N Boots (co-champ) and the Riverdale (California) Rodeo.
What follows are the rest of the buckle winners at the 2018 Prescott Frontier Days "World's Oldest Rodeo," which concluded with a whopping total payout of $260,470.40 in its 131st year.
STEER WRESTLING
Six-foot-5, 215-pound Cody Cabral, 29, of Hilo, Hawaii, won the steer-wrestling buckle with a 9.4-second total after two go-arounds. Cabral posted an impressive 3.9-second time in the first go-around and followed it up with a 5.5-second time in the second go-around.
Cabral, ranked 35th in the most recent PRCA standings with nearly $19,200 in earnings this season, also won the PRCA Last Stand Rodeo in Coulee City, Washington, this year. He got $2,941.86 for his victory in Prescott.
SADDLE-BRONC RIDING
Saddle-bronc rider Chase Brooks of Deer Lodge, Montana, recorded an 86-point ride on a Harry Vold horse named Matterhorn to claim the buckle at Prescott Frontier Days. Brooks narrowly edged Jay Joaquin of Sacaton, Arizona, who tallied an 85.5-point ride on a horse called Snort.
For his victory, Brooks garnered a healthy $6,119.40 check.
BULL RIDING
Bull rider Tim Bingham, 26, of Honeyville, Utah, notched an impressive 89.5-point ride on a bull named Monte Walsh to win the bull-riding buckle here and earn the most money of any competitor at this year's rodeo with a $7,138.80 check.
Bingham, who has qualified for the National Finals Rodeo (NFR) three out of the past five years, has won buckles at eight other rodeos this season and was co-champion of another.
BAREBACK BRONC RIDING
Bareback bronc rider Steven Dent, 32, of Mullen, Nebraska, registered an 89.5-point ride on a horse named Pow Wow Nights to garner winnings of $6,401.40.
Thus far in 2018, Dent has won buckles at four other rodeos and was co-champion at another.
Dent has qualified for the NFR, the annual Super Bowl of pro rodeo in Las Vegas, eight times (2007, 2008, 2010-2014 and 2017). He placed sixth out of the Top 15 riders at the 2017 NFR.
TIE-DOWN ROPING
Tie-down ropers Tuf Cooper of Decatur, Texas, and Cory Solomon of Prairie View, Texas, were crowned co-champions here when they tied after two go-arounds with identical 20.6-second totals. They snared $3,438.58 apiece for their efforts.
For Cooper, the defending world champion in the all-around who currently leads the 2018 world all-around rankings, it was his first win in Prescott. Solomon, presently sixth in the tie-down roping world standings, captured the tie-down roping buckle here in 2012 with a 21.5-second total.
TEAM ROPING
Header Luke Brown of Rock Hill, South Carolina, and heeler Jake Long of Coffeyville, Kansas, won the team-roping buckles with a 12-second total time on two head in Prescott for $3,432.94 apiece in winnings.
The aforementioned Baldwin and Hall had taken the lead after the sixth performance on Monday night, July 2, with an aggregate time of 12.5 seconds, but finished second overall.
The tandem of header Chad Masters of Cedar Hill, Texas, and heeler Joseph Harrison of Overbrook, Oklahoma, led through the fifth performance on July 1, with a 12.7-second total after two go-arounds before being edged out by the narrowest of margins.
Masters, a two-time world champion header in 2007 and 2012, won the team-roping buckle with Travis Graves at Prescott Frontier Days in 2017.
BARREL RACING
Barrel racer Nellie Miller of Cottonwood, California, the defending world champion, tallied a 34.93-second total after two go-arounds to win her first buckle at Prescott Frontier Days.
In the first go-around, Miller was fifth with a 17.49-second time and followed that up with a fourth-place finish in the second go-around with a 17.44-second time. She won $2,372.74 for her victory here.
SINGLE STEER ROPING
(Not run during regular performances)
Single steer roper Rocky Patterson, 52, of Pratt, Kansas, won a Prescott Frontier Days buckle for the first time after compiling a 38.9-second total on three go-arounds for the winning total of $1,694.66. Patterson, a four-time world champion steer roper in 2009, 2010, 2012 and 2016, posted times of 14.8 seconds, 12.1 seconds and 12.0 seconds in the first, second and third go-arounds, respectively.
Doug Cook is a sports reporter for The Daily Courier. Follow him on Twitter at @dougout_dc. Email him at dcook@prescottaz.com or call 928-445-3333, ext. 2039.
More like this story
SUBMIT FEEDBACK
Click Below to:
This Week's Circulars
To view money-saving ads...