Discount movies not a sure thing locally
MoviePass gets competition for discount movie tickets, but mixed in Quad Cities
Originally Published: July 1, 2018 6 a.m.
MoviePass, the subscription service that allows you to pay $10 a month to see a movie a day faces serious competition from a similar service announced by AMC Theaters this past week.
But how much difference does it make to Quad Cities movie fans?
THE LANDSCAPE
It's the first real shot at MoviePass (there are a few smaller efforts), whose business model many industry observers claim is unsustainable. MoviePass, which has been around since 2011, gained major attention late last year, when it changed its pricing to allow subscribers to see a movie a day for a flat rate of $9.95 a month.
Subscriptions skyrocketed from under 20,000 to over 3 million in a matter of months. But MoviePass reported in an April corporate filing that it lost $150.8 million in 2017. It's still spending $21.7 million a month.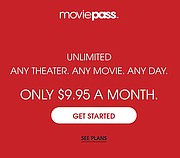 The company pays theaters the full price of each ticket bought; so far, it makes money only when someone subscribes and doesn't use the service. If the user sees even one film in most cities, that eats up the month's subscription fee.
As a result, MoviePass has tried rejiggering its plans, which has resulted in protests from subscribers.
AMC's new "Stubs-A-List" program will cost $19.95 a month, and allows users to see three films per week, all on the same day if they wish, in any of AMC's over 640 theaters in the U.S. That's a plan AMC claims will be more sustainable than MoviePass.
"We believe that our current and future loyal guests will be interested in this type of program, as AMC Stubs A-List rewards guests with something that no one else offers: the very best of AMC, including IMAX, Dolby Cinema and RealD 3D up to three times per week, for one simple, sustainable price," said Adam Aron, CEO and President of AMC Theatres.
Last summer, Aron said MoviePass "only sets up consumers for ultimate disappointment down the road if or when the product can no longer be fulfilled."
LOCAL THEATERS LIMITED
The problem for Quad Cities moviegoers, is that, while MoviePass boasts that its card is accepted at 36,507 screens nationwide, there are only two theaters here, and one doesn't allow MoviePass. Neither of them are owned by AMC, either.
The Picture Show at Frontier Village, part of the 12-theatre Picture Show Entertainment company based in Colorado, accepts MoviePass; the Harkins Prescott Valley 14, which shows more films simply by virtue of having more screens, does not.
Morgan Sales, a representative for Scottsdale's Harkins Theatres, which has 34 venues in five states, said "MoviePass has refused to activate our theaters. MoviePass has communicated to us that moviegoers' strong preference for our theaters results in a frequency of moviegoing that is financially undesirable for them."
A representative for Picture Show said the company seems to have a base of customers that see movies once a week or more who have begun using MoviePass.
So, for Quad Cities film fans who want to see discount movies, it's either MoviePass at Picture Show, or the AMC plan, with trips to Phoenix to see movies, which seems economical only if the subscriber sees more than one film while there.
A POWER USER'S PERSPECTIVE
Matt Hinshaw of Prescott Valley hosts and produces the "Reel Film Nerds" movie review podcast. He said the availability of MoviePass was one of the factors that prompted him to start up the show, but, like AMC's Aron, isn't confident that the deal will last.
"I definitely think, right now, it is worth the money," he said. "If they keep messing with their terms, tracking, and price, I will probably drop it."
Hinshaw's co-host, known on the show by the pseudonym Mysterious Mike, actually had MoviePass for several years before the introduction of the $9.95-a-month plan, but dropped it. Hinshaw said "constant changes to the plan and price hikes" were behind Mike's decision, and "he feels the current price drop is a ploy to build their customer base."
As for spending at the concession stand, a common rationale for cinemas to accept MoviePass, he said, "I typically don't spend much on the concessions. I try not to drink too much soda and I am not a huge fan of popcorn. I would say $2 to $5 at the concession stands on average."
Follow Scott Orr on Twitter @AZNewsguy. Call him at 928-642-6999. Email him at sorr@prescottaz.com.
More like this story
SUBMIT FEEDBACK
Click Below to: