60th wedding anniversary: Bob and Betty Wright
Originally Published: July 1, 2018 6:01 a.m.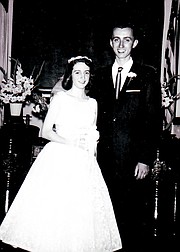 Bob and Betty Wright of Prescott Valley celebrated their 60th wedding anniversary on May 24. They were married at Saint Paul's United Church of Christ in Lionville, Pennsylvania, on May 24, 1958.
Bob and Betty moved from Pennsylvania to Chino Valley, Arizona, in 1979, then to Prescott Valley in 1988. Bob retired from Ruger Firearms division in 2003. Betty retired from Wulfsburg Electronics in 2004.
They have three children, Cindy (Rick) Demarse in West Chester, Pennsylvania, Glenn of Prescott Valley, and Keith of Chino Valley; a grandson, Lucas (Tiffany) Nobile of West Chester, Pennsylvania; and three granddaughters, Adelina Franciotti of Lynwood, Washington, Britney Kirkeeng of Mayer, Arizona, and Adriana Franciotti-Wright of Chandler, Arizona; two great granddaughters, Brody Kirkeeng and Willow Smith, both of Mayer, Arizona; and a great grandson, Elliot Smith of Mayer, Arizona.
They have been enjoying their retirement traveling in their RV during the summer months, spending the winter months at their winter home in Bouse, Arizona, and then spending the rest of their time at their home in Prescott Valley.
They had a family get together in Prescott Valley on May 20.
More like this story
SUBMIT FEEDBACK
Click Below to: