Speaker to seek censure over sexual harassment
Lawmaker criticizes Yuma Republican as 'pervy old man'

Originally Published: January 31, 2018 6 a.m.
PHOENIX — House Speaker J.D. Mesnard will ask fellow lawmakers to censure Rep. Don Shooter on Thursday, following an investigation that found "credible evidence" that the Yuma Republican violated the House of Representatives policy against sexual harassment.
In releasing an 82-page report of a study conducted by an outside investigator, Mesnard also said Tuesday that he is permanently removing Shooter from all committee assignments. Last month, after the allegations first arose, Mesnard stripped Shooter of his chairmanship of the the House Appropriations Committee.
But Mesnard said he believes that what the outside investigators turned up did not rise to the level of seeking Shooter's ouster.
"This is a judgment call," the speaker said, but he issued a warning.
"If there is any more misconduct in this sort of way, I will absolutely move for expulsion," he said.
Still, Mesnard conceded that, despite the seriousness of some of the accusations that the investigators said are credible, extenuating circumstances work against removing Shooter from office.
Many of the substantiated allegations predate Shooter's election to the House in 2016, going back to when he was a state senator. And then there's the political aspect.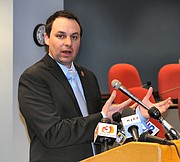 "It is a big deal to override the voters in their district who sent him here," Mesnard said, noting that voters will have an opportunity to pass judgment on Shooter if he seeks reelection this fall.
Finally, expulsion requires a two-thirds vote, but censure can be done with a simple majority.
Shooter, in a prepared statement, said he has not yet completed reading the 82-page report.
"This has been a humbling and eye-opening experience for me," he said.
Shooter has acknowledged at least some elements of some of the accusations against him, and he previously apologized in a public House session. However, he made it clear that he does not intend to resign.
"I look forward to working to repair relationships and serving my constituents and our great state," he said.
The speaker defended his decision to remove Shooter from all committees and to ask legislators to censure Shooter, without taking the case to the House Ethics Committee. If the matter were heard by the committee, Shooter would have a chance to confront those who have made allegations against him and to question them.
Mesnard said that process is not meant for this kind of sexual harassment allegation, if for no other reason than to protect the privacy of those who have made the allegations. The report, he said, contains the names of only those who have previously come forward publicly.
"You bring them before the Ethics Committee, you are airing it out before the whole world," Mesnard said. "We have to balance out the privacy of the victims coming forward so they are encouraged to come forward in the future."
Separately, the investigators said they found no credible evidence that Rep. Michelle Ugenti-Rita, R-Scottsdale, who had made allegations against Shooter, had violated any House policies.
Shooter had alleged improprieties with Ugenti-Rita having a romantic relationship with a House staffer while she was still married. But the investigators said Shooter had no personal knowledge of such an affair.
The other allegation dealt with a comment Ugenti-Rita made to another lawmaker during a committee hearing where, when that lawmaker said he had a "hot date" that night, and Ugenti-Rita responded that "your right hand doesn't count." Investigators said there was no policy violation because Shooter was not present and, anyway, he did not feel harassed or intimidated by it.
In addition to acting against Shooter, Mesnard said he will propose new House rules to include a formal anti-harassment policy. He said they will "carry the force of law."
He also will create a Human Resources Department for the House to handle personnel matters.
Mesnard also said he will prohibit the consumption of alcohol on House premises. This formally closes the door on what has been a practice by some legislators of keeping liquor or beer in their offices.
The report goes into great detail about the relationship between Shooter and Ugenti-Rita, both of whom entered the Legislature in 2010.
It says Ugenti-Rita said she thought Shooter was a "pervy old man." Other lawmakers and lobbyists also described Shooter using terms like "a character," "flirtatious," and "class clown."
As to the specifics, the report says it is likely that Shooter knocked on Ugenti-Rita's hotel room door, six pack of beer in his hands, during an out-of-town conference. But the report said that, given Shooter's general practices, there was no indication he violated House policy.
But the investigation concluded that Shooter crossed the line in leaving a gift of a bottle of tequila for Ugenti-Rita, along with a reference to a Kenny Chesney song called "Tequila."
"The lyrics are overtly sexual, implying a romantic desire for another person," the report says.
Given that any friendship between Shooter and Ugenti-Rita had disappeared by late 2011, the gift and the reference to the song, "given its overtly sexual implication, pushes his conduct beyond appropriate friendliness or workplace pleasantries."
The report also said there is reason to believe that Shooter made "unwelcome sexualized comments to and about Ms. Ugenti-Rita, including about her breasts."
Separately, the report said there is evidence that Shooter acted inappropriately with others. The report described as "inappropriate" and "subjectively unwelcomed" Shooter's conduct while meeting one-on-one with lobbyist Amy Love. According to the report, the behavior "occurred because of Ms. Love's sex." Additionally, the investigation found evidence that Shooter told Mi-Ah Parish, a Korean-American woman and then publisher of the Arizona Republic, that the one thing he has not done on his bucket list was "those Asian twins in Mexico."
And the report said it found credible allegations made by Kendra Penningroth, an intern for the Arizona Capitol Times, that Shooter, who she did not personally know, "embraced her in a prolonged, uncomfortable, an inappropriate manner."
But the report said there were "too many inconsistencies" in a complaint by lobbyist Marilyn Rodriguez to determine whether Shooter had gripped her leg during a meeting.
More like this story
SUBMIT FEEDBACK
Click Below to: