First Things First study reveals child poverty and need for early intervention resources

By
Nanci Hutson
|
HutsonNanci
Originally Published: January 31, 2018 5:55 a.m.
In Yavapai County, 31 percent of children from infancy to age 5 live in poverty, two percent more than the state average, posing serious risks to children's academic performance in later years, according to a study by First Things First.
First Things First is a statewide, nonprofit organization that funds early childhood and health programs to assure that children are ready and able to succeed in kindergarten.
The organization's just-released study, "Building Bright Futures," reports that 64 percent of Arizona children do not attend preschool; 34 percent of young children do not get essential vaccinations and only 26 percent of parents have been asked to complete a developmental screening for their children.
In Yavapai County, the picture is similarly dim, with some pockets of better results, including Prescott where only 8 percent of children in those age groups are considered to be living in poverty, according to the study. In Prescott, 38 percent of children are eligible for free and reduced lunch versus 58 percent of children eligible statewide, the study found.
In Prescott Valley, 40 percent of children are living in poverty, and 61 percent of children are eligible for free and reduced lunch; in Chino Valley 41 percent are living in poverty and 57 percent are eligible for free and reduced lunch, according to the study.
"This data shows us that too many young kids face challenges in the critical early years that threaten their lifelong success," First Things First CEO Marilee Dal Pra said in a news release. "Ninety percent of a child's brain growth happens before kindergarten, and early experiences lay the foundation for their success in school and in life. … This report not only shows that we can all do more to support young children; it gives us invaluable data with which to inform those decisions."
In Yavapai County, and the Tri-City area -- as throughout the state -- there is a desperate need for early-intervention programs to benefit young children with developmental delays or special education needs, particularly for families with limited financial resources.
While the state has some funding available for early-childhood intervention, some local educators who work with impoverished children complain that the stringent criteria attached to that funding often leaves out families whose children could benefit from the programs.
In Yavapai County, First Thing First's Regional Partnership Council is focused on financing programs offered by area nonprofit agencies that offer early-intervention resources to families. These include non-profit preschools, home visitation and young readers' literacy program.
The aim is to assure all children entering kindergarten are ready and able to learn rather than waiting until children reach school to determine they have a learning disability, said Lisa Blyth, the council's regional director.
"It's a trite cliché that kids don't come with instruction manuals, but it is a really big job to be a parent, and even bigger when they are tiny," Blyth said. "Billions of brain cells are developing every moment. And that can make parents feel less competent."
The council surveyed 150 area parents to determine if educational classes are desirable, Blyth said. The results suggested they are, but they need to be offered in ways that make sense to the parents. Some want one-on-one instruction, but many young parents want to be able to get parenting advice through their smartphones, she said.
The council's biggest focus is ensuring families have access to quality child care, places that are more than drop offs, but are interactive environments that stimulate and nurture children throughout the day, Blyth said.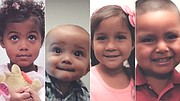 For children with special needs, including children diagnosed with autism-spectrum disorders, the council wants to offer families access to programs that help them meet those needs, Blyth said. Many such programs rely on home visitation because that is where children are most comfortable, she said.
In this area, First Things First works with seven different programs.
On a statewide level, First Things First works with 925 childcare providers to enhance early learning for some 60,000 children.
The organization's latest study is intended to help community leaders across the state recognize the urgent need for these resources and "spark community conversations and partnerships that ensure more children in Arizona are ready for school and set for life," Dal Pra said.
"The earlier we address these needs and ameliorate difficulties before kindergarten, the better off these children will be," Blyth concluded.
For more information on this survey, visit the First Things First Data Center at FirstThingsFirst.org. For grant opportunities, check the websites grants link.
More like this story
SUBMIT FEEDBACK
Click Below to:
This Week's Circulars
To view money-saving ads...