Prescott senior to join Air Force after high school graduation

By
Nanci Hutson
|
HutsonNanci
Originally Published: January 30, 2018 6:01 a.m.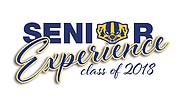 Prescott High Class of 2018 senior Bradley Stalnaker is no slacker.
In the first semester of his senior year, he earned a 4.0 while also working 20 to 30 hours a week at Safeway, a job he has held since he was a high school sophomore.
He earned his Yavapai College certification in auto shop, aced the military entrance exam and traveled with his family to Las Vegas.
On Jan. 10, Bradley was inducted into the United States Air Force. He begins basic training in June, three weeks after he earns his Badger diploma.
A month into the second semester of his last year in the Prescott school district, Bradley said he has a strong "sense of stability." Unlike some of his peers who have yet to decide what comes next, Bradley knows not only his next chapter but has plotted out what may become a military career.
"I have life already figured out," Bradley said with an assurance that belies his age.
Of course, Bradley said he knows there will be twists and turns along the way but he is now able to go about his daily business with a confidence that he is ready.
"Wherever it goes is wherever it goes," said Bradley who after basic training will attend technical school for what he expects will be some type of mechanical job that will utilize his mathematical skills.
Bradley said he would like to become a sensor operator, and will consider pilot training, or at least earning a civilian piloting license.
With his projections now firm plans, Bradley admits high school now seems a bit underwhelming. Still, Bradley said he is determined to finish at the top, spend quality time with family and friends, and attend the senior prom. Bradley admits he has not steeped himself in much of the high school social life, so wants to partake in some of the rites of passage so that he can look back with no regrets.
Bradley even quit his job because he feels comfortable he has earned enough money to kick back a bit.
Bradley likes to go on motocross trips with his friends, and he just painted a bedroom for his grandparents.
"I just like to go with the flow," he said.
A couple weeks ago, the school's bright blue caps and gowns went on sale. His is now hanging in the closet.
Though he admits he is most excited about launching his military career — his family is already planning a trip to Texas for his basic training graduation — Bradley said the cap and gown stand as a reminder of where he's come and where he's headed.
Part of his high school path to the Air Force is rooted in the two years he spent as a freshman and sophomore in the high school's JROTC program. The fact that he completed those two years will allow him to be promoted to airmen as soon as he completes basic training rather than waiting six months.
Eventually, Bradley plans to parlay his military experience into a college degree and an officer commission. He has four years to make that decision.
The JROTC program leader, retired Lt. Col Bill DeKemper, is delighted Bradley's stated intention to pursue a career in the U.S. Air Force appears to be on the horizon.
And he's grateful the program played a role in his preparation.
"My memories of Bradley are all positive. He is quiet, but obviously was learning and absorbing what we were giving."
A lot of the JROTC students talk about possible military careers, but never pursue it, DeKemper said. He recalls Bradley saying that was what he wanted, and admires that he kept his focus.
"That's fantastic," DeKemper said. "He is a solid young man."
Follow Nanci Hutson on Twitter @HutsonNanci. Reach her at 928-445-3333, ext. 2041.
Related Stories
More like this story
SUBMIT FEEDBACK
Click Below to:
This Week's Circulars
To view money-saving ads...