Prescott moves closer to state play-in berth after topping rival Bears
Prep Boys Basketball
By
Doug Cook
|
dougout_dc
Originally Published: January 30, 2018 11:26 p.m.
Photo Gallery
BMHS vs Prescott Boys Hoops 013018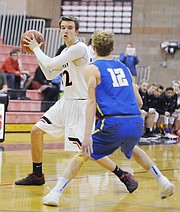 The push for the postseason is on for the Prescott boys' basketball team, which powered past rival Bradshaw Mountain, 57-46, on Tuesday night for its second straight victory after enduring a season-worst four-game losing streak in power-point contests from Jan. 12-23.
The 4A No. 18-ranked Badgers were led by senior forward Charles Hicks, who scored 12 points, pulled down six rebounds and had three steals and an assist in the Grand Canyon region rivalry contest at Gary Kunow Gym in Prescott Valley.
"We pretty much took time off, regrouped and said, 'Look, we're playing teams the second time around [in region]. What if we show them a different look? What if we get a little more enthusiastic,' " Hicks said of Prescott renewing its focus late in the season. "After we tweak a couple things, we find new enthusiasm in new rewards."
Dillan Osborn came off the bench for Prescott, registering 12 points on the strength of two 3-pointers and a 4 for 4 clip at the free-throw line.
Senior point guard Kody Jones added seven points, 12 rebounds, six assists and a block. Cameron Parsons chipped in with nine points, two boards, three assists and two steals.
The Badgers grabbed a commanding 35-13 lead at halftime and cruised from there.
"We committed to two things [against the Bears] – we really wanted to work on the defensive end and make it tough on them, and we needed to rebound the basketball," Prescott coach Adam Neely said. "We built the lead early on because of those two things."
With the victory, Prescott upped its record to 10-12 overall and 6-4 in region. The Badgers swept the season series from the Bears. They posted a 78-59 victory Dec. 18 at their dome gym.
"It was a good team win," Jones said. "We're on a little bit of an uphill stretch right now. We're playing well together. It's just nice to have all of the senior guys playing real well, and all of the bench guys coming in and do their thing."
Bradshaw Mountain (1-20, 0-11 Grand Canyon) has now lost 11 consecutive games, with its lone win of the season coming Dec. 6 at Greenway in Phoenix. The Bears are learning important life lessons from a trying campaign.
"It's been a struggle to put the ball in the basket," Bradshaw Mountain coach Matt Simpson said. "We've got to find a way to play harder than other teams all game long. Our guys are staying positive, and they still want to play together. They still want to keep battling, no matter what. They haven't given up."
Bears senior guard Ben Petro, who paced the Bears with 15 points and nine rebounds on Tuesday, has labored to stay positive throughout the ordeal.
"We're a hard-working team, and we keep fighting, but most of the season we haven't been able to come out on top," Petro said. "They [Badgers] really took care of the ball well and moved it, got open shots and we're making them. Props to them."
Prescott's looking to qualify for the 4A state tournament play-in round Feb. 9. The Top 8-ranked teams at the end of the regular season earn automatic bids into the state tournament, which starts Feb. 14. The Nos. 9 through 24th-ranked squads are paired and compete in one-game playoffs to decide the remaining eight teams in the state playoff bracket. Those clubs ranked 9 through 16 host a play-in contest.
"I don't see why we wouldn't make it," Jones said.
UP NEXT
Prescott closes out the regular season with two region games, including Friday at Mohave in Bullhead City and Tuesday, Feb. 6, at Lee Williams in Kingman. Tipoff is at 7 p.m. for each contest.
Bradshaw Mountain ends its campaign with its region finale Wednesday at Lee Williams, followed by Senior Night Friday versus No. 4 Seton Catholic. Both contests begin at 7 p.m.
Doug Cook is a sports reporter for The Daily Courier. Follow him on Twitter at @dougout_dc. Email him at dcook@prescottaz.com or call 928-445-3333, ext. 2039.
More like this story
SUBMIT FEEDBACK
Click Below to:
This Week's Circulars
To view money-saving ads...