Building a healthy community of new men
Boys to Men Mentoring Program seeks to help teen boys find their path with guidance and support

By
Nanci Hutson
|
HutsonNanci
Originally Published: January 28, 2018 6:05 a.m.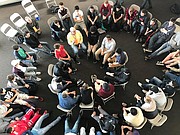 In a hurricane three years ago, Charles Matheus was leading a Mogollon Rim camping trip for teenage boys.
He admits he was cranky and miserable. The young lads in his charge — delighted.
"They were just happy to be outside, and to have a challenge they could face. Their self-sufficiency and strength was blossoming as they retained a positive attitude, and just kept walking through the rain," he said. "I realized I have to buck up. I can't keep being cranky."
For almost a decade, Matheus has been executive director of the Boys to Men Mentoring Network program in North Central, Arizona. The program offers teenage boys from ages 12-20 experiential and group mentoring circles in familiar and unfamiliar settings.
Matheus, 51, has a unique understanding of why mentors are so important to young men. He was just 10 years old when his father, Francis, died; he and his sister were fortunate to have strong family and community supports who helped him arrange for first jobs and attend to his education.
Still, Matheus said despite a community "that deeply cared for me" there were some emotions he just dared not share. He did not have the male mentoring that as both a science and wilderness educator, and now as a leader of a mentoring organization, he knows are so critical in those formative years.
Boys to Men is all about offering opportunities for teens to interact with adult role models in ways that are meaningful to their growth development. The program has several components: intense "rite of passage" weekend retreat experiences offered through local campgrounds three times a year; "journeymen" groups, or weekly activity groups where teens and adult mentors do volunteer or recreational activities that can range from organic farming in Chino Valley to rock climbing or hiking in Prescott; and school-based mentoring "circles" of eight to 10 young men and adult leaders.
Matheus said the "circles" are growing in popularity — they are now offered in seven district and charter schools in the area — because they help these young men "break their isolation."
"Our culture has changed to value relationship and relatability and agreeableness, and many young men haven't had that modeled for them," Matheus said.
At one recent middle school circle, Matheus said the boys were decomposing the highs and lows of the holiday break, and the theme that emerged was grief. For one of the boys, the holidays coincided with the death of a parent and another boy was grieving a fractured relationship with a friend.
With the help of their adult mentors, a 1-to-4 ratio of adults to teens, these young men forge a bond of support and trust that enables them to delve into tough topics they would otherwise keep below the surface, Matheus said.
January is National Youth Mentoring Month
One mentor, Larry Kennedy, a retired insurance executive from Boston, said he joined the program in August.
"This was something I always wanted to do but never had the time," said Kennedy, who has an adult son.
What he has discovered from this participation in these circles is how much these boys yearn for both peer and mentor guidance.
"I didn't realize how many kids grow up without the nuclear family that I experienced as a young person," Kennedy said. "And without that it makes it much harder for them to figure life out."
At one of his circle meetings, Kennedy said the theme of the day was emotion. The boys were asked to explore why they feel as they do about certain things, and recognize that those emotions have value. Society may suggest that men are not to show their emotions, but without a proper way to channel their feelings and emotions a young man can end up "down the wrong track real easy."
"It's helpful for these guys to realize that they're not the only who feels a certain way," Kennedy said.
One of the things Kennedy most appreciates about this program is the mantra that mentors aren't substitute parents or instructors. They are simply there to "listen, accept and encourage."
"We're not there to tell what to do," Kennedy said. "I discovered very quickly that no adults are listening to them. So they all have these thoughts and ideas and no one to help them with them."
Matheus said the program hopes to expand this year into a similar mentoring program for teenage girls: Girls to Women. His wife, Kelly Roberge, is heading up that effort.
A lot of the teens participate in multiple events, some activities do have nominal costs. The retreats cost between $50 and $250 for a weekend, but financial aid is always available.
Matheus advocates the retreats and weekly activities as opportunities for these young men to receive "tons of positive support and time to look at who he is, who he wants to become and then ask for help to get from here to there."
It's all about relationship-building, Matheus said.
"Everybody's in this together," he said.
More like this story
SUBMIT FEEDBACK
Click Below to: