Police arrest woman wanted for Taco Bell attempted robbery, assault
Both suspects booked at Yavapai County Detention Center
The Verde Independent
Originally Published: January 26, 2018 6 a.m.
COTTONWOOD – Around 8 p.m. Wednesday, detectives located and arrested 36-year-old Tia Stevens for her involvement in the attempted armed robbery of the Cottonwood Taco Bell late Sunday evening.
Cottonwood resident Stevens is believed to be the suspect driving the car used in the attempted heist.
Thanks to a Cottonwood dispatcher, detectives were able to locate Stevens, said police spokesperson Sgt. Monica Kuhlt in a news release.
"The dispatcher used computer resources, social media and her cleverness and was able to find an address that turned out to be Stevens' location," said Kuhlt.
Stevens was taken into custody without incident and additional evidence was recovered.
She was later booked into the Yavapai County Detention Center for armed robbery, aggravated robbery, aggravated assault and a felony probation violation warrant.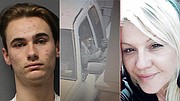 Plotnikoff arrested
Tuesday, Cottonwood police announced that they had arrested the other suspect in the case.
Kuhlt said 18-year-old Zion Eliaz Plotnikoff, of Cottonwood, was arrested.
He was taken into custody at a Cottonwood hotel without incident, and was booked into the Yavapai County Detention Center for armed robbery, aggravated robbery, and aggravated assault.
What happened
Sunday, shortly after 11 p.m. Sunday, a white man with a handgun entered Taco Bell in Cottonwood through the drive-thru window attempting to rob the restaurant. The incident was captured on surveillance video. No money was taken, but an employee sustained serious injuries.
According to a news release from Cottonwood police, while at the drive-thru window, the Taco Bell employee handed food to the suspects when the female driver sprayed pepper spray into his face. The man in the car then crawled across the driver and through the drive-thru window. He then hit the Taco Bell employee several times with the butt of his gun.
He was unable to get any money and fled back out the same window before the woman drove away, according to the news release.
While officers were en route to Taco Bell, they were provided with a description of the suspect vehicle – a White 1989 Chevrolet three-quarter ton pickup truck with Arizona registration of BMK0689. An officer located the truck in the area of State Route 89A and South 12th Street. The truck fled from officers into the desert area between Cottonwood and Clarkdale into terrain the police car couldn't travel.
Related Stories
More like this story
SUBMIT FEEDBACK
Click Below to: