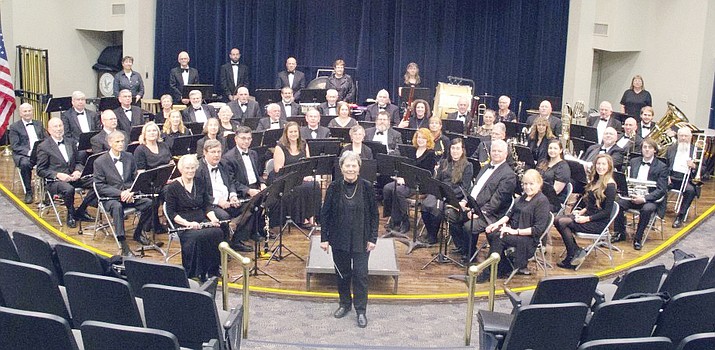 Originally Published: January 26, 2018 6 a.m.
Back in 1996 Bob Boorn, already a popular leader of a local German Oom Pah band, had a vision of bringing to Prescott audiences a professional musical ensemble reminiscent of the great brass-wind ensembles of the Golden Age of Bands.
He collaborated with Clydene Dechert to recruit 34 talented musicians from the local ranks of the professionals, semi-professionals, active and retired. In January 1998 the Central Arizona Concert Band presented its first concert. Of that original band, seven members are still active and will be performing when the band presents its twentieth anniversary concert, Sunday, Jan. 28.
The Band's anniversary concert will reprise the program of that first concert. After opening with the lively "In Storm and Sunshine March" by J.S. Heed, the show continues with the "Marinarella Overture" by Julius Fucik.
"Fiesta" is one of five symphonic dances commissioned by the San Antonio Symphony to celebrate its 25th anniversary. The music evokes what the composer describes as "…the pageantry of Latin American celebration – street bands, bull fights, bright costumes, the colorful legacy of a proud people."
Danny Anderson, a local vocal artist, will reprise his original performance with a rendition of the playful "Teddy Bears' Picnic" by John Bratton and three songs from Willie Nelson's concert tour, including the ever popular "On The Road Again."
Dechert reconfirmed the Band's mission to provide the finest in "good old-fashioned band music" for the Prescott community. "Thanks largely to the efforts of Band founder, Bob Boorn, we have an extensive library that contains all of the popular favorites and many that may be less familiar, she said. That, coupled with the dedication of an outstanding group of musicians, serves as the basis for meeting that mission."
The venue for the Sunday concert will be the Davis Learning Center at Embry-Riddle University, 3700 Willow Creek Road, Prescott. Downbeat is at 3:00 pm. Admission is $12 for adults and $5 for students. Discounted tickets and additional information about the concert can be found on the website, www.centralarizonaconcertband.com.
— Kathy Wells
More like this story