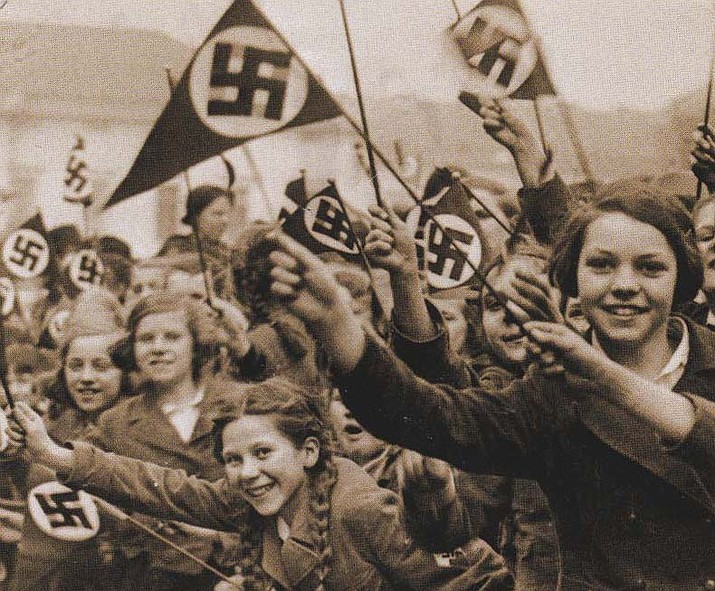 Originally Published: January 26, 2018 6 a.m.
The Prescott Center for the Arts' Readers Theatre production of "All Through the Night" tells a WWII story from a different viewpoint, showing the effect of Nazi rule on German women, said Parker Anderson, director of the show.
Told in semi-surrealistic fashion, with flashback and flash-forwards, it centers on the lives of a number of German women and how the Nazi rule and the war affects each one differently, Anderson said.
"For instance one becomes a concentration camp prisoner. Another one, who's a nurse, becomes a resistance leader who helps hide people form the Nazis while another one of the women actually becomes a Nazi, herself, and joins the forces," he said. "It's very moving. It's subject matter that might make people uncomfortable, but that's' what good theater does."
The show runs from Thursday to Saturday, Feb. 1-3, at Stage Too, 219 N. Cortez St. in the alley behind the Prescott Center for the Arts. Show times are at 7 p.m. with a 2 p.m. matinee on Saturday. Tickets are $5 at the door.
"All Through the Night" wasn't originally written to be a Readers Theatre show and had to be pared down for the format — actors sitting and reading from scripts, which are placed on a music stand in front of each actor. According to Anderson, the show doesn't adapt well to that format, so some color has been added to the actors' dresses, and movement and sound effects have been added, too, but the actors will still be reading from scripts, held in their hands, Anderson said.
The show's cast includes Dianna Cline, Tina Blake, Crystal Ogden, Karen Weik, Lyssa Romaine, Ellen Searles and Ali Cassidy. The play was originally written by Shirley Lauro, who, according to Anderson, does not shy away from controversy.
"There's a scene that shows how the bombing of Dresden affected the women, too," he said. "That's a subject a lot of people don't like talking about because the bombing of Dresden historically is not remembered very kindly. But we did it; the Allies did it. We bombed a civilian city into rubble as part of WWII."
It's a show with something to say, and while many might go to the theater to have fun and not think about serious things, it's necessary, Anderson said. It does people some good if they give it a chance once in a while, he said.
For more information, visit www.pca-az.net.
More like this story