Roughriders hoping new wave of talent will lead them back to national spotlight in 2018
Spring Preview: Yavapai College Baseball

Originally Published: January 25, 2018 6:05 p.m.
Updated as of Thursday, January 25, 2018 10:55 PM
https://soundcloud.com/sportswriter52/preview-yavapai-college-skipper-ryan-cougill-talks-about-the-upcoming-2018-baseball-season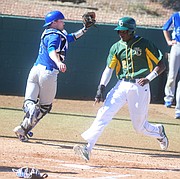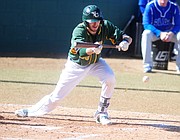 https://soundcloud.com/sportswriter52/interview-darius-vines-yavapai-college-baseball
https://soundcloud.com/sportswriter52/interview-alex-isola-yavapai-college-baseball
Yavapai features 14 freshman, handful of transfers on revamped roster
A season after claiming the NJCAA JuCo World Series title, the fourth in team history, Yavapai College baseball failed to make the postseason in 2017.
It was a step back, based on program standards, but as the snow melts at Roughrider Park and a new crop of talent fills the clubhouse with hope, spring has arrived early. The 2018 season is here.
With a new season comes high expectations for a Roughrider program that features 14 newcomers, a handful of solid returners and not one player that experienced what it was like to be ranked No. 1 in the nation in 2016.
Entering his sixth year piloting one of the most successful junior college baseball program's in the country, Ryan Cougill said whenever a club doesn't win their last game, or qualify for the postseason, there's always some "disappointment."
"There's a lot of things we achieved last year with guys continuing their career and their education, but as far as what happens here at Yavapai, our focus is to make the postseason and we didn't do that," Cougill said. "So that's disappointing."
Every year, junior college programs wipe the slate clean, especially successful ones who frequently see their players plucked by four-year university baseball programs, or get drafted by Major League Baseball.
Yavapai is no different, and Cougill knows that better than most.
"This team seems pretty focused going into Friday, we'll pick up the pieces and whatever needs to be improved on Friday. But we're as ready as we need to be," said Cougill, who won National Coach of the Year in 2016 after leading the Roughriders to a 49-20 record and national title.
TOP RETURNERS
Shortstop Carlos Viera, outfielder Trevor Edior and infielder Matt Mendibles lead a core group of returners from a 2017 Roughriders (34-22, 20-16 ACCAC) club that finished just seventh in conference.
Mendibles, a former Prescott Badgers standout, hit .333 in 66 at bats in 2017 with two home runs and 33 RBIs. Those numbers figure to climb with regular playing time as he appeared in just 36 games.
Viera is one of the top returning hitters this season. The sophomore had 40 RBIs in 56 games while slashing .326/.412/.476 and was second on the club in steals with 23.
TOP NEWCOMERS
With 14 freshman on the roster, there's plenty of growing pains the coaching staff will have to finesse their way through this spring.
Right-handed freshman hurler Dominc Hamel from Hamilton, one of the top high school baseball programs in Arizona, joins the Roughriders this spring. Gianni Tomasi (Chaparral), Tommy Sacco (Perry) and Marcus Christy (Red Mountain) are also on the roster.
Perhaps the most immediate help the Roughriders will receive this spring come via a handful of transfers, including two Pac-12 conference recruits in catcher Alex Isola (Utah) and left-handed pitcher Tommy Costello (Washington).
Isola, a 6-foot-1, 200-pound catcher from Lincoln, California, played for the Utes in 2017 and is expected to start behind the plate for Yavapai this season.
Isola said staying at Utah "wasn't in my best interest" after 10 of his teammates left for "various reasons."
"I just felt [coming to Yavapai] was the best opportunity for my career and to win a national championship. Those are the reasons I came here," Isola said, adding he's quickly gotten to know the pitching staff and expects them to be the strength of the club this spring.
"We have guys on this team, to be honest, that could compete at the Pac-12 level. I've seen guys that throw 95, we have guys that can touch 94, and just really good secondary stuff," Isola said.
Offensively, Isola can't wait to hit at Roughrider Park.
"I came from high altitude in Utah and it was fun, but my park was a lot bigger there. You get here and the ball flies. You get out here, take batting practice and it feels good. And I've heard when it gets warmer, it flies even more so I'm excited," Isola said.
Darrius Vines, a right-handed starting pitcher who features a four-pitch arsenal including fastball, curveball, changeup and slider, is expected to be the No. 1 starter on the hill for Yavapai this season.
The sophomore transfer decided to come to Yavapai because the coaching staff had a "better understanding of who I needed to be, and what I needed to be to succeed in life, and this baseball career."
Cougill said Vines features a power arm, which makes his changeup that much more devastating.
"He's someone you don't see a whole ton of, in the fact that he's a power arm, 88 to 92, he's got two-plus pitches, and an off speed pitch. … That's pretty nice to have," Cougill said.
BUNDRICK RETURNS
After spending the fall playing football for Mesa Community College, former Bradshaw Mountain standout Gunner Bundrick returns to Prescott this spring, transferring to Yavapai over winter break to play baseball for the Roughriders.
He played catcher for the Bears in high school, but will likely play outfield for Yavapai this spring.
OUTLOOK
Cougill expects a scrappy team that "scraps, fights and claws" and will get on base.
"I like that because that type of play doesn't take days off," Cougill said, adding the home run power Yavapai featured is a thing of the past, at least for now.
"I don't think we'll hit 100 home runs again, that's pretty rare, I don't know if we'll ever do that again," Cougill said.
Yavapai led the nation in home runs with 111 in 2015, and hit 86 in 2016 when they won a national title. The Roughriders hit just 48 last season.
UP NEXT
Yavapai (0-0, 0-0 ACCAC) opens the 2018 campaign Friday against Colorado Northwestern Community College at the CSN Kickoff Classic in Henderson, Nevada. First pitch is scheduled for 2:30 p.m.
The Roughriders will play 11 games on the road over the next three weeks before hosting a home-opening doubleheader against South Mountain Community College on Saturday, Feb. 17.
Brian M. Bergner Jr. is sports editor for The Daily Courier. Follow him on Twitter and Instagram at @SportsWriter52 or on Facebook at @SportsAboveTheFold. Email bbergner@prescottaz.com or call (928) 445-3333, ext. 1106.
More like this story
SUBMIT FEEDBACK
Click Below to: