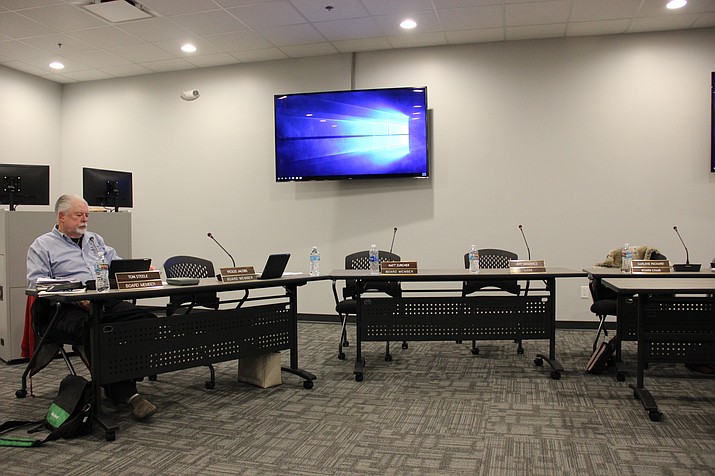 Photo by Max Efrein.

Originally Published: January 25, 2018 6 a.m.
Central Yavapai Fire District board member Tom Steele made an attempt to tape an executive session meeting on his personal recording device during the board's regular monthly meeting on Monday, Jan. 22.
He initially announced to the CYFD board that he would be doing so. Without discussion on the matter, the board convened to another room with Steele holding his recording device.
Within a couple minutes, Steele returned to the main board meeting room by himself, with the device, saying that the board's attorney, Nicolas Cornelius, would not allow him to record the meeting. Steele, therefore, excused himself from the executive session before it began, he said.
"It's a matter of principle," Steele said.
He proceeded to sit in his seat while the rest of the board and staff went on with the executive session for the next 30 minutes.
Steele has been asking to record the board's executive session meetings on his own personal recording device for several months now.
He said his reason for doing so is that he'd like to listen to the recordings at his home after each meeting because he wears hearing aids and doesn't always understand what his fellow board members and the board's staff are saying.
Cornelius and the board's chairperson, Darlene Packard, say they have not allowed Steele to record the meetings because they are uncertain as to whether state law allows such recordings.
Additionally, the board's staff already records the executive session meetings, so board members may review the recordings at the fire authority's headquarters during regular business hours.

Steele said he doesn't like the idea of reviewing the sessions at the headquarters because he doesn't want to inconvenience the staff.
"I really started this out, so I don't have to obligate staff time," Steele said.
His argument is that he is already bound by state law not to disclose anything to the public regarding what is discussed during executive session.
Nonetheless, despite a recent attempt by Steele to get an answer in writing to his request to record the executive sessions, there has been no clear communication from the Arizona Attorney General's office that indicates whether he can lawfully record the meetings on his own device and take the recordings home with him.
Related Stories