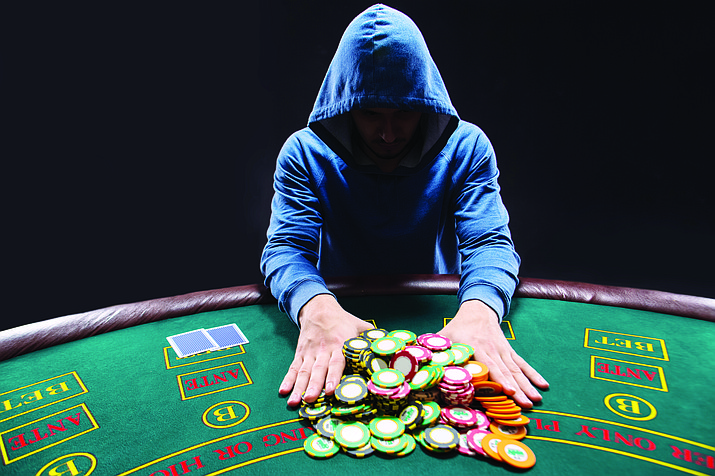 Originally Published: January 24, 2018 6:01 a.m.
Resources available
A free resource for problem gamblers and their family members is Gamblers Anonymous.
Weekly meetings take place throughout the state — including in the Prescott area — and are listed on GAPhoenix.org/state-wide-meetings-1.html.
The Arizona Division of Problem Gambling also provides funding for professional counseling.
Anyone, including family members of those struggling with gambling problems, can utilize the funding. Arizona's casinos and lottery are required by law to contribute to the fund.
For advice and immediate help, call 1-800-NEXT-STEP. The hotline is staffed 24/7 by fully licensed, professional counselors.
It was about a week-and-a-half until Christmas, 2017, and Kelsey hadn't gambled in 92 days.
The 31-year-old mother recently spoke with her husband about what presents they would get for their children. Kelsey (not her real name) wasn't working at the time, so all she had to contribute to the gift buying was $25. Wishing to do better than that, she convinced herself to make a quick visit to Bucky's Casino in Prescott.
"I had the greatest feeling," she said. "It was like somebody was talking to me from above, saying 'you deserve this money, because you and your kids deserve to have a good Christmas. Screw working hard for it. Just go get it fast, easy and walk out.'"
As she has done countless times before over the span of 10 years, she marched in, sat down at a slot machine, fed it money and mindlessly pushed a button. On just the fourth bet, she won the jackpot for $347. At that moment, all of the pent-up desire to gamble she had kept at bay the last three months came flooding out.
"All the emotion, the feelings, the excitement, it all came back, rushing from my head down to my toes," she said. "It's like my body got hot and my pupils dilated."
From there, it was a month-long downward spiral filled with highs, lows and ultimate despair. After quickly losing those initial winnings, she took out a $1,500 title loan on her car, scrounged together money from wherever she could think of, and even pawned her guitar — one of her most prized possessions.
"I can't believe I pawned my guitar," Kelsey said with tears in her eyes. "The thing I love. It's what gives me that good feeling, and it's gone now. I can't tell anyone about it because I'm so ashamed. That's how low you can get. You do things that you never in a million years thought you would do, just to feed the monster that's telling you that you need to go."
In all, that one-month binge cost her about $3,600. Having hit rock bottom, she fessed up to her husband about the relapse and dragged herself to a gambler's anonymous meeting, where she received her 'welcome back' chip.
"I'm just grateful to be here right now," Kelsey told those at the meeting. "I have hope today, which is something I didn't have yesterday, so that's a plus."
Problem gambling
Kelsey is just one of many who have developed an addiction to gambling in their lives.

In 2012, an estimated 1.6 percent of Arizona adults (78,534 citizens) were believed to have a gambling disorder, according to a prevalence study done by Problem Gambling Solutions, Inc. This is not far from the national average of 2.2 percent, as determined by the National Council on Problem Gambling in 2014.
However, Elise Mikkelsen, Manager of the Arizona Division of Problem Gambling, said the percentage is likely higher because prevalence studies only reflect the number of people willing to admit to having a gambling problem over a cold call.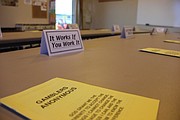 "Statistically speaking, that's valid, but I tend to think it's probably a little bit higher than that, realistically," Mikkelsen said.
Additionally, gambling throughout the country has continued to steadily grow every year both physically and online.
"The availability is just far more widespread now than it has ever been before," Mikkelsen said.
Online gambling is illegal in Arizona, but that doesn't mean there aren't workarounds for that, Mikkelsen said.
"It's still obtainable for people and it's still something that they participate in," she said.
Michael Collins, a licensed professional council in Prescott who is contracted with the Arizona Division of Problem Gambling, can vouch for this. Many of his clients struggling with gambling addictions talk about their use of online gambling.

"Sometimes it can just be so much more convenient for them," Collins said. "They can do it on their lunch hour; they can do it whenever they want on their cellphone."
'Disorder' classification
As of 2013, the diagnosis of pathological gambling was renamed as gambling disorder in the most recent edition of the Diagnostic and Statistical Manual of Mental Disorders (DSM), a benchmark publication in the medical community.
The reclassification essentially bumped problem gambling into a more serious realm of medical consideration.
Within the problem gambling treatment community, the word 'disorder' is commonly replaced with 'disease.'
Collins often hears his clients refer to their gambling addiction as a disease, but prefers to not use the word because it can sometimes turn into a person's excuse for not getting the addiction under control.
"They sometimes twist it around and say 'I can't help it. I have this baffling disease,'" Collins said. "When I hear someone saying that, I would argue the point with them that it's a disease that you chose to have and it's a disease that you can choose to get under control, as opposed to other diseases where you may not have the choice."
Choice or not, for people like Kelsey, the disorder is something that has wreaked havoc in her life and nearly ended it on several occasions.
"I've attempted suicide three times because of it," she said.
She said she plans to take steps to improve her situation, but is questioning her ability to do so.
"I want this life to stop so badly, but at the same time, I'm not doing the things I need to be doing to change it," she said.
As of her first day back to gamblers anonymous, her goals moving forward are to seek more consistent help from a sponsor, rebuild trust with her family, get a job, pay off her debt, and hopefully buy her guitar back from the shop she pawned it to.
"I have time to get it back, but I'm not going to get it back through going and gambling," she said. "Hopefully, I'm going to make my money and I'm going to get it myself."