Yavapai College helps stave off nursing shortage
Defying the Trend

By
Nanci Hutson
|
HutsonNanci
Originally Published: January 22, 2018 6:02 a.m.
If someone ends up in a hospital bed at Yavapai Regional Medical Center or in the local VA hospital, they need not fear the decade-long national nursing shortage will adversely impact their care, officials said.
Unlike in other states, or even in cities and towns across Arizona, the greater Prescott region remains a draw for the high-demand profession, they said.
Even between 2005 and 2007, when nursing shortages were most acute, YRMC managed to attract and retain adequate staffing for the opening of a new heart center and a second campus in Prescott Valley, said Ken Boush, the hospital's director of marketing and communication. In the ensuing decade, YRMC remained aggressive in its national recruiting and has retained a stable nursing population, he said.
"We recruit 24/7; that is our operating philosophy," Boush said.
The United States has about 3 million nurses, but demand for nurses is quickly outpacing supply, according to the U.S. Bureau of Labor Statistics. By 2025, nursing shortfalls are expected to reach a historic high due to aging patients and nurses. More than 1 million nurses today are age 50 or older, the agency said.
"We have a very good story to tell," said Mark Timm, YRMC's executive director of human resources. "We're very employee-centric."
The hospital has many specialties, from maternity to heart and brain surgery, that offer nurses a variety of clinical duties to hone their skills. And nurses at YRMC are encouraged to participate in research, data analysis and other tasks that enhance what they offer patients, Timm and Boush said.
"We include their perspective in how they provide care," Timm said.
In hospital reviews, most current and past nurses rate YRMC as a patient-focused facility that values nurses' work and offers opportunities for growth. Some were critical of management and compensation, but, overall, praised their colleagues for the highest-caliber patient care. Nurse-to-patient ratios range from 1 to 5 for medical/surgical patients, 1 to 3 in emergency or specialty areas and 1 to 2 for intensive care.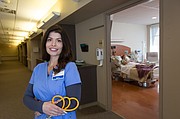 Additionally, YRMC's nursing standards and salaries are nationally competitive. The hiring salary ranges are between $28 and $38 an hour, with the average annual salary about $72,000, according to a national nurse salary guide. The average national nurse salary is $67,930 and in Arizona is $71,390, according to the guide.
Northern Arizona Veteran Affairs Health Care System is also managing to stay ahead of the shortages, with nurses accounting for 298 of its 1,170 staff positions. The U.S. Department of Veterans Affairs' annual salary packages average just under $76,000 and reach as high as $126,666, according to the VA.
Even with northern Arizona cost-of-living rates higher than the state's metropolitan areas, Mary Dillinger, public information officer for Northern Arizona Veteran Affairs Health Care System, said her facility "has no problem hiring nurses or filling nursing positions.
The VA has both new and seasoned professionals, with many taking advantage of on-site and other reimbursed educational opportunities, Dillinger said. The VA is open to all hires; the only preference for any position is if the applicant is a veteran, she said.
Yavapai College's nationally renowned nursing program is one reason that both YRMC and the local VA hospital have no nursing shortages.
"We have a nursing factory in our backyard," Timm said of the college's nursing program, which accepts 48 students each semester, 32 on the Prescott campus and 16 on the Verde Valley campus.
Yavapai College's graduates earn an associates' degree, but most are concurrently enrolled in bachelor degree-level courses with Northern Arizona University, University of Phoenix or Arizona State University. The student nurses do clinical practice at YRMC, the VA and other health facilities in the area. On the national exam required of all nursing students, 95 percent of Yavapai College students earn a passing grade.
In a Yavapai College radio broadcast, Mary Brown, director of the nursing program, said the program's reputation of rigor is due to highly credentialed and trained instructors.
"We want the nurses we turn out to the community to be the best nurses they can be," Brown said.
With more nursing shortages looming nationwide over the next five years, YRMC's administration continues to stay abreast of trends, Timm said. In the evolving world of medicine, complacency has no place, he and Boush noted.
"Though we have been somewhat insulated, we are not immune," Timm said. "As long as we think forward, we'll stay in an OK position.
"We just have to continue to find the talent we need to fill our positions."
Follow Nanci Hutson on Twitter @HutsonNanci. Reach her at 928-445-3333, ext. 2041.
More like this story
SUBMIT FEEDBACK
Click Below to: