Women's March: More than 1,100 march — for many reasons — in downtown Prescott

Originally Published: January 21, 2018 6:02 a.m.
Photo Gallery
2018 Women's March On Prescott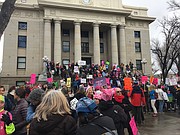 Despite the cold from a lingering storm, more than 1,100 people marched around the Yavapai County Courthouse for the 2nd annual Women's March on Prescott Saturday, Jan. 20.
Those marching were both men and women. Peggy Staples, one of the marchers, said she was participating because it was a way for her to express concerns she has in the world.
"I'm especially concerned about the way we are looking at the immigration issue," Staples said. "I have very major concerns about our environment and some of the policies that have been changed in a way that I think is detrimental to the environment."
Michele Van Haecke said she was marching for democracy. She did so to keep democracy alive and to find positive channels of communication, she said.
There was also Erica Muse, who said she marched for the women she knows who have been raped, sexually abused and sexually harassed and nobody did anything about it or they were afraid to say anything. She also marches for children who have been abused and to have a voice for people who don't necessarily have one, Muse said.
Ray Cage said his motivation revolved around President Donald Trump. He was wearing a sandwich-board sign calling attention to the president's taxes, but said it was more than that. He said Trump is insulting to the presidency and the line of presidents, while President Obama was articulate and intelligent.
"He's getting away with a lot of things that he is impeachable for, he should be impeached. He's pretty much an insult to our country," Cage said. "We talk about human values and moral outlook on life, he's a pretty shallow man, very self-centered."
Counter protest
While the participants were marching around the courthouse, there were a few counter protesters standing on the corner, showing their support for Trump.
One of the supporters, Susan Shipley, said she stands across the street every Tuesday between 1 and 2 p.m. to protest, when Prescott Indivisible usually takes to the plaza. Shipley said she was there Saturday to thank God that Trump is president and celebrate his first-year anniversary.
Margaret Gifford-Mitchell said she didn't know what the people who were marching were protesting for. Women's rights were achieved in the 1970s and she is against abortion, Gifford-Mitchell said, adding that a child conceived through any means is a human being.
"It is not that child's fault, it should not be aborted just because, and (abortion) is not a form of birth control," Gifford-Mitchell said. "That's my number one reason."
Sandra Elkins brought up the number of marchers and compared it to those standing in support of the president, stating it was about seven people. Elkins said she heard a woman marching say they have the power and noted it didn't make any sense to her.
"So what are you doing here then if you have the power?" Elkins asked. "Why do you need to be here?"
During the march, a flash mob performed the "One Billion Rising" routine. "One Billion Rising" is a global movement founded in 2012 in an effort to end rape and sexual violence against women.
Representatives from The Vagina Monologues were also selling shirts and tickets to the Friday and Saturday, Feb. 23-24, production of the show with all proceeds going to Prescott Area Shelter Services, said Producer John Duncan. The event will be at Embry-Riddle Aeronautical University at 7:30 p.m.
Related Stories
More like this story
SUBMIT FEEDBACK
Click Below to: