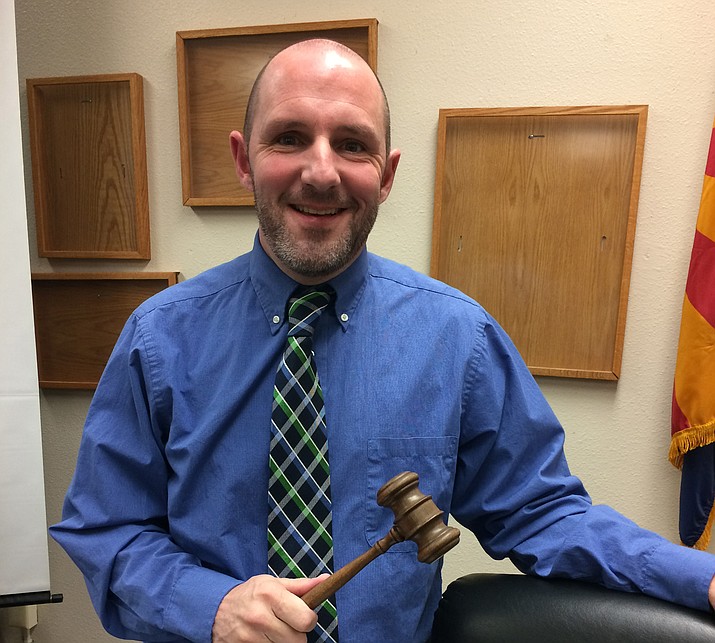 Originally Published: January 21, 2018 6:02 a.m.
Humble and analytical, John Mackin is known as someone who likes to give everyone an ear, including children and teenagers, as he works toward making decisions intended to improve the lives of others.
His fellow board members and district leaders describe the area director of Young Life, a faith-based teen mentoring organization, as well-suited for his latest endeavor: president of the Prescott Unified School District Governing Board.
"John's been a cornerstone in the community for a long time," said District Superintendent Joe Howard. "When I was principal at Mile High Middle School, he used to come and help us do skits and plays for the eighth-grade promotion ceremony. He had relationships with the kids. He was almost part of our staff."
Howard described Mackin as a "genteel, quality, caring person" who has shown that, like his fellow board members, he always has the best interests of students and the community at heart.
"I'm thrilled about his leadership," Howard said.
The outgoing president, Mayor Greg Mengarelli, who remains a board member, was equally enthusiastic about Mackin's unanimous appointment to the position. Mackin is in the second year of his two-year term in office. The board vice president is long-time member Tina Seeley, a local Realtor.
"John's a great leader," Mengarelli said. "He's been in town a long time and is very invested in the community, as well as in the schools. He has a great vision."
In the coming year, Mackin will be busy as the board and administration prepare for moving the district offices from its current office complex on South Granite Street to the century-old historic Washington School on Gurley Street. The existing complex is marketed for sale.
Washington School ceased to be the state's longest-operating elementary school in the spring of 2015. Today it is home to the district's Discovery Gardens pre-school and the Family Resource Center.
Mackin was part of the decision making process to reorganize and sell school properties that generated filled auditoriums of concerned staff, parents, and community members.
"We're all sad this week about (the demolition of the former) Miller Valley Elementary School, but let's focus on Washington and its repurposing," Mengarelli said.
Another "big deal" will be following up on the results of a district-wide accreditation process scheduled to begin the second week of February, Mengarelli said.
"I think John has just a great vision and I appreciate him stepping up," Mengarelli said. "I think he'll do a fabulous job."
Natives of Maryland, Mackin and his wife, Dani, moved to Prescott in 1997, two years after his job with Young Life moved him to Cave Creek.
"It was a total culture shock," he recalled, chuckling over his wife's reaction to the 118-degree summer temperature.
The couple has three teen-age sons, Macrae, 18, who will graduate from Prescott High in May, Zach, 16, and Sam, 15, and a 5-year-old adopted daughter, Elizabeth, a kindergartner at Taylor Hicks Elementary.
Asked about his connection to education, Mackin said all five of his siblings are teachers, and when he first graduated from college he taught math. His heart though was with Young Life, a group he first got to know as a high school counselor.
Through his career, Mackin said he has witnessed firsthand the importance of fostering healthy relationships between adults and youth. To do that, he has spent a lot of time connecting with schools "because that's a kids' world."
In the greater Prescott region, Young Life serves between 300 and 400 youth.
His decision to get involved with educational politics stemmed from listening to others complain without offering to help make positive change.
"I don't want to be that person," he said.
He was first elected to a four-year board seat in 2013. He was re-elected last year.
"I love public education. I love our public schools. I love, and highly admire, the teachers, the custodians, the cafeteria workers. There is no other place in a town or city like a public school where people come together for kids," Mackin said.
When he first got on the board, Mackin said there was a perceived distance between the board and the school community.
"It was not a great dynamic," he said.
Over the course of the last four years, Mackin said there have been administrative and board changes such that the Governing Board last year was honored as one of the best in Arizona.
"We need to appreciate and care for the staff and you can't do that from a distance," Mackin said.
With the move to Washington School next month and the accreditation, Mackin sees progress.
He said he feels privileged to be charged with working closely with Howard on ways to better engage the school community in the board's work and decision-making process. He said he has high hopes the accreditation shines a light on where the district can continue to progress for the benefit of some 4,000 children who depend on this system.
"The people of our district for sure know (public education) is worth the fight; it's worth the time and energy to keep striving for excellence."