Governor seeks rules to curb opioid abuse
Many focus on what doctors can do; special session slated

Originally Published: January 21, 2018 6 a.m.
PHOENIX — Gov. Doug Ducey wants lawmakers to enact a grab-bag of laws and authorize new regulations — many on doctors — in a bid to curb opioid abuse and overdoses.
Legislation being crafted for a special legislative session this coming week includes:
• Forbidding doctors from prescribing more than five days of opiates for people who are not already taking the drug;
• Limits on the dosages of opiates that doctors can prescribe;
• Eliminating paper prescriptions for opiates to curb forgeries;
• Set up a system to prevent patients from "doctor shopping";
• Allowing drug manufacturers who falsely promote their opioids to be charged with crimes and having their executives subject to incarceration.
The package also includes provisions designed to help those who already are addicted, including allowing them to walk into a central location to turn in their drugs and even get temporary placement of their children while they work to deal with their problem.
And Ducey wants a "Good Samaritan" law similar to 40 other states that permits those who witness someone who has overdosed on opioids to call police without fearing that they will be arrested because of their own drug use.
Christina Corieri, the governor's health adviser, said the package was crafted with input from various interests, including the medical community. But it remains to be seen whether doctors are willing to accept new state-imposed restrictions on their ability to practice medicine.
"We want to make sure that while we're trying to go after the bad actors and make sure that the proper checks are made that we're not running into policies that may impact people that are suffering from pain and may have either delays in care or are unable to access it," said Pete Wertheim, executive director of the Arizona Osteopathic Medical Association.
Still, he said the medical community recognizes its responsibilities.
"We're part of the problem," Wertheim said. "We need to be part of the solution."
Repeated calls to the larger Arizona Medical Association about the plan were not returned.
The problem, Corieri said, is that 812 Arizonans have died between June 2017 and this month of suspected opioid overdoses, with another more than 5,200 overdoses. There also were 455 babies born addicted to the drug.
And the state estimates that 75 percent of the heroin users in treatment started with legal painkillers, whether they were the people for whom they were prescribed or they got the drugs illegally on the street.
The governor's package does include some money for treatment, including $10 million for those ineligible for Medicaid. And there will be more access by individuals, families, doctors and law enforcement to Nalaoxone, a drug that can counteract the effects of an overdose.
But the focus remains on the ability of people to get the drug legally.
It starts with that five-day limit on prescriptions for those who have not been prescribed opioids for the prior 60 days.
Corieri said it not unusual for a doctor to give a patient a prescription for a 30-day supply following surgery or other medical procedures.
She said people presume if they've got pills for 30 days the doctor wants them to take the full course, similar to antibiotics.
But Corieri said there is data that the chances for someone to become addicted double after six days, and double again after 12.
And what if patients need more?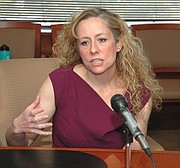 "At that point it will be up to the physician and the patient to determine," said Health Director Cara Christ.
"Most people with an acute injury only need three days, usually not more than seven," she said. "This is going to get people through that initial injury so that they can transition to potentially something else like acetaminophen and ibuprofen."
The other half of that equation involves dosages.
Federal guidelines recommend doctors use caution with daily dosages of more than 50 "morphine milligram equivalents." That MME is a standard indicator, as different forms of opioids have different strength.
The legislation proposes a 90 MME limit. But Christ said there have to be exceptions for things like burn patients as well as those in hospice care or end-of-life situations to manage pain.
"One of the issues (with opioids) is your body becomes dependent and becomes tolerant of it," Christ explained. "You need more and more dosage the longer you're on it, sometimes, in order to get the same impact and have the same pain control."
Christ said the question of better alternatives is not simple. And she conceded that could include marijuana, which is legal in Arizona for patients with certain conditions.
"We have a very robust medical marijuana program in Arizona," Christ said, with about 150,000 people already having permission to legally use the drug. "I think that that's something that the doctor and the patient need to decide that's right for them."
Christ, who suffers from acute rheumatoid arthritis, said her own personal preference is a combination of diet and exercise.
"But that doesn't work for everybody, just like marijuana doesn't work for everybody," she said.
SUBMIT FEEDBACK
Click Below to: