Final campaign tally in 2017 city election: $308,319
Amount more than triples any previous Prescott election
By
Cindy Barks
|
Cindy_Barks
Originally Published: January 21, 2018 6:01 a.m.
With all of the campaign money from Prescott's 2017 election season now recorded, the total collected for the August primary and November general election tops $300,000 — significantly exceeding any previous city election.
Candidates were required to file their fourth-quarter campaign-finance reports by Monday, Jan. 15, to disclose money collected and spent between Oct. 22 and Dec. 31.
The reports cover the final three weeks of campaign for the general election, which took place Nov. 7.
Overall — including the money that candidates and political action committees collected in the Aug. 29 primary and the November general election — the total stands at $308,319.
That breaks down to $236,607 for candidate-related campaigning, and $71,712 for receipts related to Proposition 443, the measure that voters approved in the primary to raise the city sales tax by 0.75 percent to pay down Prescott's debt with the Public Safety Personnel Retirement System.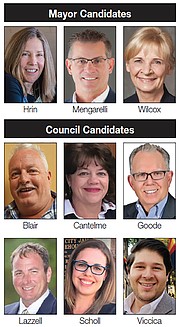 In the 2015 City Council election, for instance, candidates raised $94,193 for the mayor and council campaigns. (Because all of the seats were filled in the August primary that year, a general election was not necessary. Records from the 2009, 2011, and 2013 primaries show totals of $54,000, $76,000, and $34,000, respectively.)
The bulk of the 2017 campaign money went toward the mayor's race, with Greg Mengarelli collecting $89,813, and Jean Wilcox collecting $50,707. (Mengarelli was the winner in the Nov. 7 run-off.)
Also in the mayor's race, candidate Mary Beth Hrin raised $18,534 before being eliminated in the August primary. Other spending in the mayoral race included the $8,495 that the Arizona Education Project spent campaigning against Hrin, and the $20,639 that the Arizona Free Enterprise Club spent to campaign against Wilcox.
The final tallies for council candidates included: Steve Blair, $5,923; Connie Cantelme, $8,786; Phil Goode, $14,170; Alexa Scholl, $9,928; and Joe Viccica, $8,547. (Scholl, Goode, and Blair won the open council seats.)
Final major contributions ($1,000 or more) in the fourth quarter included:
• Mengarelli — two contributions of $1,100 and $1,223 from retiree Malcolm Barrett.
• Wilcox — $1,400 from technology officer and retiree Andy and Toni Denis.
• Blair — $1,000 from engineer Dean Lyon.
• Scholl — $1,005 from Prescott Firefighters Political Action Committee.
Follow Cindy Barks on Twitter @Cindy_Barks. Reach her at 928-445-3333, ext. 2034, or cbarks@prescottaz.com.
More like this story
SUBMIT FEEDBACK
Click Below to:
This Week's Circulars
To view money-saving ads...