Friday Catchall: Mayor offers look at airport, growth, Big Chino

Originally Published: January 19, 2018 6:05 a.m.
The Friday Catchall:
Photo Gallery
Prescott Chamber Annual Meeting 2018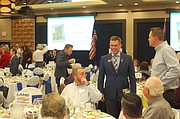 The Prescott Chamber of Commerce held its Annual Meeting on Thursday at the Prescott Resort. Highlights included a review of progress and accomplishments in 2017; projects and prospects for the coming year; passing of the Board Chairman's gavel; Prescott Area Young Professionals Visionary Awards; and the keynote speech by Prescott Mayor Greg Mengarelli.
• THE FUTURE – The Prescott Chamber of Commerce Annual Meeting on Thursday offered a glimpse into the future.
Prescott Mayor Greg Mengarelli spoke of regional cooperation and the prospects of expansion at the Prescott airport.
He also mentioned in his keynote speech the future need to tap into the aquifer under the Big Chino Ranch, water that is owned by Prescott and Prescott Valley. He did not say how the lofty price tag of a pipeline could be paid (current estimates top $200 million); however, hinted at growth.
The Courier for some time now has reported about the region's growth in no fewer than 18 subdivisions on the north side of both Prescott and Prescott Valley.
Mengarelli drove home the point by telling attendees of his great-grandfather's pioneering spirit, and how that same drive is what's behind business and success in this area.
For a newly seated mayor he certainly has the talking points down. Next up will be the rubber meeting the road. Our mayor is not shy yet he is humble, giving credit to those who came before him.
Kudos and onward, Mr. Mayor!
• ROUNDABOUTS – I received word from a reader this week who was shocked that Highway 89A, at the Glassford Hill interchange, could have a roundabout someday.
These traffic circles are something many people here in Yavapai County love to hate. (Actually, they are proven to be safer, taking out of the mix the head-on crashes.)
As we published in December, in the short-term the Arizona Department of Transportation plans to add a second lane to the eastbound ramp, with a free-flowing right-turn lane onto Glassford Hill Road. Yet, in the mid-term, they want to build double roundabouts to "facilitate mobility."
That means if they ever get the money, roundabouts there are possible. The key here is the money, which the article stated: "There's no funding in the program for any of this," the Courier quoted the ADOT district engineer, Alvin Stump, as saying.
Your guess is as good as mine, as to when construction would break ground; per ADOT it is definitely several years down the line.
The traffic lights would go away, and you would have to negotiate those pesky yield-and-go circles instead. I can hear the collective sigh now.
Watch for our follow-up coverage.
• FAKE NEWS – It is not when you don't like something, rather it is when it's untrue.
Fake news is a type of "yellow journalism" that consists of deliberate misinformation or hoaxes spread via print, broadcast news or social media. It is written and published with the intent to mislead the public in order to damage an agency, entity, business or person, and/or gain financially or politically.
Too often people call something "fake news" when they find the news item hard to believe or simply do not like it. That's not fake news.
I called the pending closure of Sam's Club in Prescott Valley a lesson in fake news because it was that: "a lesson" – showing you how we sort through tips and confirm items we receive word about. In that case, the tips turned out to be true.
Some people who think they are journalists intentionally mislead or post deceptively fake news, which is different from obvious satire or parody – intended to be humor rather than mislead the audience.
This is one of the reasons we have published photographs of the lines of people waiting to get into the Sam's Club. It's further proof of what's happening, and it is simply amazing!
Don't you think?!
• PICK OF THE WEEK – (Proving there's always something good to do in the Prescott area that's cheap or free): "Virgil Earp: Toughest of the Earps," at 2 p.m. Saturday, Jan. 20. A presentation by Brad Courtney and Constable Ron Williams at Sharlot Hall Museum, 415 W. Gurley St. 928-277-2015.
Tim Wiederaenders is the senior editor for The Daily Courier and Prescott Newspapers, Inc. Follow him on Twitter @TWieds_editor. Reach him at 928-445-3333 ext. 2032, or twieds@prescottaz.com.
More like this story
SUBMIT FEEDBACK
Click Below to:
This Week's Circulars
To view money-saving ads...