Arizona in Brief: 80-year-old accused of bank robbery has decades-old record
Originally Published: January 19, 2018 5:55 a.m.
80-year-old accused of bank robbery has decades-old record
PHOENIX (AP) — The lanky, bespectacled man walked into a bank in a strip mall on Tucson's northern edge with a gun, demanded that a teller hand over an undisclosed amount of cash and made his escape on foot.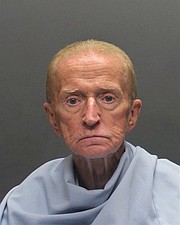 Experts say the heist on Friday at the Pyramid Federal Credit Union branch represents a rarity in the world of bank robbery: The suspect, who was arrested the next day, is 80 years old.
And as it turns out, suspect Robert Francis Krebs has a decades-old criminal record for stealing from banks, including a 1981 robbery in Florida in which a branch manager and a teller were handcuffed and left in a vault.
Robert Francis Krebs served more than 30 years in prison for the bank robbery near Orlando and has a 1966 conviction in Chicago for embezzling $72,000 from a bank where he worked as a teller. He also did time for theft and armed robbery convictions from Arizona dating back to 1980.
He was released from prison in Florida last summer and has since been found to have violated his probation because he didn't disclose his whereabouts to authorities, according to the Florida Department of Corrections.
Krebs, whose is jailed on a $50,000 bond, was booked on suspicion of armed robbery in the Tucson, Arizona, robbery. It's unclear whether Krebs has yet been assigned an attorney.
Tucson police spokesman Officer Chris Hawkins said investigators are trying to determine the motive behind Friday's robbery.
William J. Rehder, a retired FBI bank robbery expert who isn't involved in Krebs' case, said it's unusual for elderly people to carry out robberies. Typically, bank robbers are in their 20s.
Rehder said Krebs' motivations are likely two-fold: He misses the thrill of pulling off a bank job and needs money, given that he's an octogenarian with little potential to earn money after spending decades in prison.
Replacement for senator who resigned chosen
PHOENIX (AP) — The Maricopa County Board of Supervisors has chosen a former lawmaker to replace a Republican state senator who resigned to run for Congress.
The board on Thursday unanimously chose Republican Rick Gray of Sun City to replace Debbie Lesko in the Senate. She stepped down to seek the seat vacated by U.S. Rep Trent Franks.
Republican committee members in the 21st Legislative District in the western Phoenix suburbs nominated three party members as potential replacements. The board passed over current state Rep. Tony Rivero and former state Rep. Jean McGrath.
A dozen Republicans and three Democrats are seeking Franks' old seat after one GOP hopeful withdrew. A primary is set for next month, followed by an April general election.
The board previously replaced former Sen. Steve Montenegro, who also resigned to seek Franks' seat.
Crash closes lane of Interstate 10 in southeastern Arizona
BOWIE (AP) — Authorities say a car crash has closed a lane of Interstate 10 in southeastern Arizona.
They say the accident late Thursday morning occurred in Bowie, about 30 miles (about 48 kilometers) west of the Arizona-New Mexico border.
Details aren't immediately available about how many vehicles were involved and if there are any injuries.
Arizona Department of Transportation officials say the westbound lane of I-10 is closed around the crash site, but the eastbound lane remains open.
There's no estimated timetable for when the westbound lane will reopen.
Death sentence overturned in killing of officer
PHOENIX (AP) — An Arizona Supreme Court ruling upholds a man's murder conviction but overturns his death sentence in the 2007 killing of a Glendale police officer during a routine traffic stop.
The ruling says Bryan Wayne Hulsey is entitled to a resentencing in Officer Anthony Holly's shooting death because Hulsey's due-process rights were violated when the trial judge precluded discussion of parole ineligibility when jurors considered sentencing issues.
The unanimous ruling Thursday upholds Hulsey's murder conviction and one for attempted murder of a second officer at the traffic stop as well as a nine-year prison sentence for that crime.
The Supreme Court says Hulsey remains eligible for a possible death sentence on his murder conviction when he is sentenced again.
Teenage driver killed in early-morning crash in Scottsdale
SCOTTSDALE (AP) — Police in Scottsdale say a teenage driver has been killed in an early morning car crash.
The name of the 16-year-old boy hasn't been released yet.
Police say he was the only person in the car at the time of the crash, which occurred about 1 a.m. Thursday on Scottsdale Road.
They say the car struck a light pole on the east side of the road and the vehicle was torn in half.
The teen was declared dead at the scene.
Police say speed was a contributing factor in the fatal crash, which remains under investigation.
Phoenix airport considers plan to leave parking business
PHOENIX (AP) — The Phoenix Aviation Department is recommending for the city to allow the private sector to take over the airport's public parking facilities and build a new transportation center.
KJZZ-FM reports the department pitched the idea to let a developer build a parking garage on the west side of the Phoenix Sky Harbor International Airport during a meeting of the city's Downtown, Aviation, Economy and Innovation Subcommittee.
The department also proposes for the airport to privately lease out the other parking facilities currently operated by the airport.
The airport has about 9,500 parking spaces on the east side near terminal 4. The approximately 3,700 spaces on the west side will disappear when terminal 2 is demolished and the tram line that connects the airport's terminals is extended.
Flagstaff City Council OKs resolution opposing border wall
FLAGSTAFF (AP) — The Flagstaff City Council has adopted a resolution stating opposition to President Donald Trump's proposed border wall and calling for the northern Arizona city to not do business with companies helping build it.
The council's vote Tuesday night was 5-2 for the resolution.
The resolution cites the project's costs, environmental concerns, deaths of migrants illegally entering the United States, and opposition to the proposed wall by the Tohono O'odham Nation. The southern Arizona tribe's reservation sits on the border.
The Arizona Daily Sun reported that Associated General Contractors chapter President David Martin wrote a letter criticizing the resolution's provisions on businesses as an illegal blacklist that'd limit competition and increase costs for taxpayer-funded projects.
Other cities that have approved similar resolutions include Tucson and San Diego.
Phoenix police: Officers fatally shoot knife-wielding man
PHOENIX (AP) — Phoenix police say a knife-wielding man is dead after being shot by two officers during a confrontation after the man allegedly cut another person and threatened others.
Sgt. Jonathan Howard says the injuries of the person who was cut apparently aren't life-threatening and that no officers were injured in the Wednesday evening incident at a gas station.
Howard says officers went to the gas station after receiving calls reporting a man with a knife acting erratically.
More like this story
SUBMIT FEEDBACK
Click Below to: