Originally Published: January 18, 2018 6:24 p.m.
Over the years, country singer Justin Moore has learned it is his job to go on stage, throw a musical party of sorts and give people a good time.
"It's kind of our job to throw a party and make people forget about bills they have to pay or work they have to go to the next day, let the hair down and have a good time for a few hours, so we try to throw a party," Moore said. "If we're having fun on stage and we make that obvious and make that clear, that typically becomes infectious and the crowd has a good time."
When it comes to the set, Moore said his current "Hell on a Highway" tour throws audiences some old stuff he hasn't played in years, adding that it has been fun for him and the fans enjoy it too.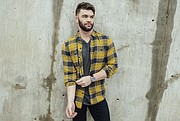 Moore will be at the Prescott Valley Event Center, 3201 N. Main St., at 7:30 p.m. Friday, Jan. 19, with special guest Dylan Scott. Tickets are $50.75 for the pit in front of the stage and for floor and side arena seats; and $37.75 for end arena seats. Tickets can be purchased online at prescottvalleyeventcenter.com, by calling 800-745-3000 or at the box office from 10 a.m. to 8 p.m.
There has been a lot of support from fans in the area since early on in his career, Moore said. He's happy to be coming back, he said.
The name of the tour comes from a song on Moore's most recent album, "Kinda Don't Care." Many times, the names of tours come from a single or a popular song from the album that's played on the radio, but it didn't feel like either one of the singles from the album had the right ring to it, he said.
"We kind of combed over the album and thought that 'Hell on a Highway' was a pretty good depiction of what we do on the road," he said. "Liked the way it sounded, so went for it. So far so good with it."
Moore has been playing ever since high school and said he was really into sports growing up and really only singing at church. He didn't know everybody could sing and sound like the people on the radio, something his family kept trying to tell him.
While in between going to college and possibly playing baseball at a small school, he was playing music, he didn't know what he wanted to do, he said. When his father asked what he thought of playing music for a living, he responded he didn't know it was a possibility.
"I grew up in a town of 300 people," he said. "I had no idea that this happened to normal people."
It's all the people who have helped him along the way in his career, as well as the fans he's made along the way, that keep him going, Moore said, calling himself blessed to be able to do what he does for a living. Only a small percentage of the world's population can say that, and the only negative aspect to the business is being away from family, he said.
A songwriter too, Moore said he gets inspiration from his songs from everyday life. He can find a song from something he hears on TV, something one of his kids says or from seeing a situation happening.
"What I've learned over the past 16, 17 years is in this business, if you can relate to it, then there's a whole lot of other people out there who can relate to it, as well," he said. "That's where I draw my inspiration from."
For more information about Justin Moore's "Hell on a Highway" tour and his appearance in Prescott Valley, visit www.prescottvalleyeventcenter.com.