Oklahoma felon arrested at Walmart after alleged assault
Sale of bus in PV turns ugly, forcing victim to pull out a gun
Originally Published: January 17, 2018 6:02 a.m.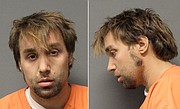 A fugitive felon from Oklahoma was apprehended in the clothing section of the Walmart Supercenter in Prescott Valley Monday evening, Jan. 15, after he allegedly shattered a Prescott man's truck window with a knife at the nearby Maverik gas station.
Prescott Valley Police Department officers initially responded to the Maverik on Glassford Hill Road shortly after 5 p.m. with reports of an aggravated assault in progress, according to a news release.
As police officers were responding to the call, it was then reported that the suspect in the incident – 28-year-old Matthew Philip Solan, of Oklahoma — had fled on foot to the Walmart next door.
During a police investigation, it was determined that the victim — Nathan Harris, 39, of Prescott — had agreed to meet Solan at the Maverik in Prescott Valley to sell him a 1968 Crown Bus. Harris told police that while the transaction was taking place, Solan began acting "strange, very nervous and weird." Harris, therefore, decided to terminate the meeting and the sale of the bus.
As Harris got into his truck with his 15-year-old son and prepared to leave, Solan approached Harris' vehicle, opened a pocket knife and shattered the driver side rear window, according to the release.
Harris, in his statement to police, said he responded to the attack by getting out of his vehicle, drawing his firearm from its holster, and pointing it at Solan, who had gotten into the passenger side of a vehicle that had given Solan a ride to Maverik. Harris said Solan then exited the vehicle he was seated in and fled on foot toward Walmart.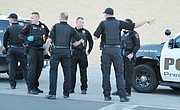 Harris described Solan as a white male, wearing grey pants, black boots, a tan long-sleeved shirt and a cowboy style hat.
While some PVPD Officers responded to the area of the Maverik gas station, other officers responded to Walmart to look for Solan, who had entered the store. Shortly after, Solan was located in the clothing section and arrested by police. After apprehending Solan, a warrants check revealed that an extraditable felony warrant was issued in Oklahoma for his arrest.
Solan was transported and booked into the Yavapai County Sheriff's Office Camp Verde jail for one count of aggravated assault (a felony); recklessly handling a deadly weapon (a felony); disorderly conduct (a felony); two counts of endangerment (a felony); one count of criminal damage (a misdemeanor); and the extraditable felony warrant from the state of Oklahoma for aggravated assault on a police officer.
Related Stories
More like this story
SUBMIT FEEDBACK
Click Below to: