Mendoza focuses on benefits to Dancing for the Stars
Still getting the mechanics of the routine figured out, he says

Originally Published: January 17, 2018 6:02 a.m.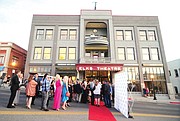 Chino Valley Councilman Corey Mendoza said focusing on the benefits of Dancing for the Stars has been helping to lessen the intimidation of dancing in front of a group of people come April.
"There's a whole lot bigger motive to do this now than at first. At first it was a little bit of, 'Poor me, what did I volunteer for here' to 'it's like this is a fantastic thing," Mendoza said. "It just changes your attitude going in. It's for a good cause."
In October, Mendoza was revealed as one of the celebrity dancers for the 2018 Boys & Girls Club of Central Arizona Dancing for the Stars event. It's the second year for the event and the first time there's been a dancer from Chino Valley.
Organization leadership is excited to include Chino, especially with the growth of having a brand new club in the town, said Boys & Girls Club of Central Arizona Vice President of Development Nicole Kennedy.
"We were strategic in finding somebody to represent the community of Chino Valley because of the growth out here and bringing the club," Kennedy said. "Tying that in to Dancing for the Stars, it was completely on purpose and we're excited."
It's rewarding to see incorporating the community come full circle and have that involvement, said Kristen Kerns, unit director for Prescott Valley and Chino Valley.
Continuing to keep his routine under wraps, Mendoza said he's getting more used to moving around on the balls of his feet and being spryer.
"My coach told me that men tend to walk more flat-footed than women do. So learning is a little bit more difficult because we have a natural tendency to not be on the balls of our feet," he said. "It's just something new to learn."
Mendoza said he's going to need every bit of the four months leading up to the fundraiser to practice with his partner, Dawn Wilson. By then, he'll be able to put on a pretty good show, he said. Currently, a lot of it is learning the footwork and trying to put some rhythm to it as time goes on, Mendoza said, noting it's a matter of getting the mechanics figured out and he wouldn't call it dancing at this point.
Dancing for the Stars will take place on Saturday, April 14 and tickets are expected to go on sale very soon, said Kennedy.
More like this story
SUBMIT FEEDBACK
Click Below to: