Hear: Sex abuse victim speaks against ex-doctor
Ex-doctor's victims recount sex abuse as young gymnasts
Originally Published: January 17, 2018 6 a.m.
Kyle Stephens was the first victim of nearly 100 to speak Tuesday at a sentencing hearing for Larry Nassar. Stephens, whose parents were friends with the now disgraced doctor, said he repeatedly sexually abused her when she was a child. (Jan. 16)
Ex-doctor's victims recount sex abuse as young gymnasts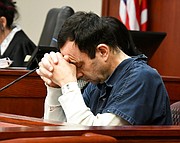 LANSING, Mich. (AP) — One after one, gymnasts and other victims of a disgraced former sports doctor stepped forward in a Michigan courtroom Tuesday to recount the sexual abuse and emotional trauma Larry Nassar inflicted on them as children — one with the warning that "little girls don't stay little forever."
Nearly 100 women and girls planned to speak or have their statements read during an extraordinary four-day sentencing hearing. Many of them cried as they told their stories. Some requested that their identities not be made public. The judge consoled the victims and said they should not blame themselves.
"I testified to let the world know that you are a repulsive liar and those 'treatments' were pathetically veiled sexual abuse," one victim, Kyle Stephens, said to the 54-year-old Nassar, who bowed his head with his eyes closed or looked away as she and others spoke.
Stephens, the first to speak, said Nassar repeatedly abused her from age 6 until age 12 during family visits to his home in Holt, near Lansing. She said he rubbed his genitals on her and digitally penetrated her, among other abuse.
She said Nassar later denied it, and her parents initially believed him. Stephens said she largely blamed her father's suicide on the shame and self-loathing he felt for defending Nassar.
SEE RELATED STORIES:
Sexual abuse victim to ex-doctor: 'You are a repulsive liar'
More like this story
SUBMIT FEEDBACK
Click Below to:
This Week's Circulars
To view money-saving ads...