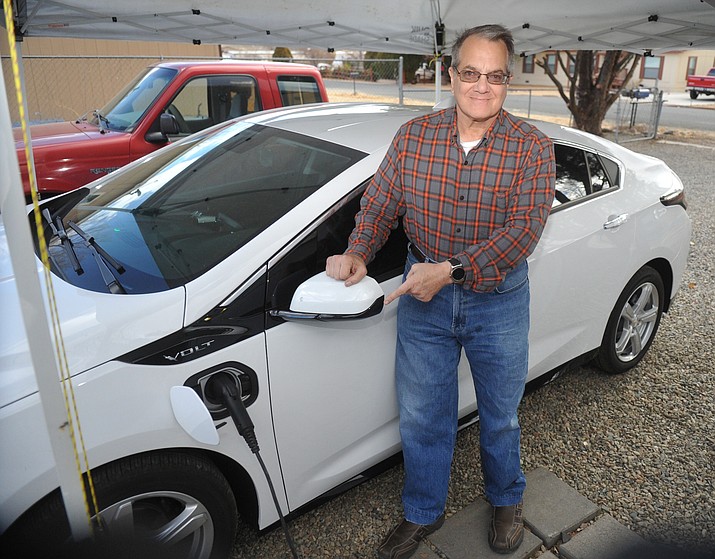 Originally Published: January 14, 2018 6:05 a.m.
Electric cars currently available
BMW i3
Chevy Bolt
Fiat 500e
Ford Focus Electric
Hyundai IONIQ Electric
Kia Soul EV
Mercedes B250e
Mitsubishi i-MiEV
Nissan LEAF
Smart ForTwo Electric Drive
Volkswagen e-Golf
Tesla Model S
Tesla Model X
Rimac Concept_One
Source: EVObsession.com
Electric vehicles are becoming more popular all the time, with a federal tax credit of around $7,500 for buying one, and several states offering additional credits and perks.
But drivers who live outside a major metropolitan area, like Phoenix, face a high hurdle: Where can you recharge the battery?
Sure, you can plug it in at home, which is great for short, in-town driving.
That's typically what Richard Slatin does. His 2017 Chevy Volt is easy to charge overnight at home.
The Volt gets "in excess of 53 miles per charge," he said. An EV has a generator on board, which charges the batteries.
"When the primary charge is depleted, let's say that 53 miles, that's when the generator kicks in, and it does so seamlessly," he said.
He estimates a range of 370 miles or so with the batteries' initial charge and the charge supplied by the generator, which has an eight-gallon fuel tank.
"I've taken it to Los Angeles and back, and as long as you remember to stop for gas, when you're highway driving, you're fine," Slatin said.
He lives in Prescott Valley and gets just over two round-trips to downtown Prescott on a charge.
EVs differ from hybrids in that hybrids also have a gasoline engine that they can use when needed, but an EV's generator is small and serves only to charge the batteries, which power electric motors on the front wheels.
There are locations with public chargers in the region, but not many.
And others are at hotels that allow only guests to "fill up."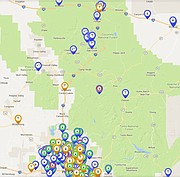 Lamb Nissan offers a charging station, but only during business hours.
Springhill Suites on Sheldon Street offers a free charging station.
The Shell station at Cordes Junction offers a 24/7 charging station for Teslas. (A Tesla charger can reportedly be used for other cars with an adapter, but the charging rate becomes very slow.)
There is a 24/7 Tesla station at the Williams Holiday Inn Express & Suites as well.
And, there are several Tesla-only charging stations at hotels in Sedona.
And that's it for our area.
Will Beckett of the Electric Auto Association said businesses that have these charging stations usually get the equipment free or at a reduced price.
"These programs are usually supported by local or state clean-air associations," he said, "In most cases, business owners can set the fee (to charge the vehicle), but since it will encourage clients, many do make them free."
Slatin, who built his own electric sports car some years ago, is frustrated by the lack of recharging facilities in Yavapai County.
"Down in the Valley, in the metro Phoenix area, there are innumerable charging points," Slatin said, and the ones located at shopping centers are either free or inexpensive, he added, because they attract customers.
But Slatin said that even in Sedona, where there are a few more charging stations, when he wanted to stay in a hotel without one, he was told he could "go into town" to charge.
"I don't want to have to go (to one of the chargers) and sit there for four-and-a-half hours," he said.
Beckett, who went to school at Prescott College — which he said does have a new EV charging station, though it is not yet featured on online lists — took his EV on a 2,500-mile trip over the summer, including a pass through Prescott, and a stop to charge at the college before continuing on to Tucson and another public charging station.
Slatin pointed out that Yavapai College does not have EV chargers on campus, and a spokesman for YC said the school has no plans to introduce them.
So, then, why did Slatin — and others — buy these EVs? He cited the environmental advantages, and the fact that electricity is cheaper than gas.
"Add to that other factors, such as a silently engaged motor and full power available instantly, and it's all of the above and fun."